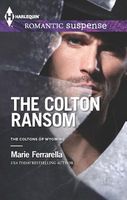 Series: Coltons of Wyoming (Book 1)
"Double Crime at Dead River Ranch"
Former cop Trevor Garth left the line of duty, but his expert instincts are sharper than ever when crime strikes the Colton ranch. As ranch security, he has to step in--yet this time getting justice is personal. Mistaken for a Colton heiress and stolen from her crib, his daughter's in the hands of a killer out for ransom. Desperate for an ally, he must rely on the woman determined to help him.
Gabriella Colton doesn't think twice about joining Trevor's search for his daughter. Beneath his world-weary exterior is a passionate man in need of someone to trust--with his baby and his heart. Now, when every second counts, their dangerous investigation draws them closer to each other...and their darkest threat.
Excellent start to the new Colton series. Trevor is just about at the end of his rope. His daughter's mother abandoned the baby on his doorstep and he hasn't a clue what he is doing. As he's walking around trying to get her to stop crying, Gabby comes to his rescue and puts the baby down for a nap in her niece's crib. A couple hours later the nanny is dead and the baby is missing.
I really liked both Gabby and Trevor. Gabby is the youngest of the three Colton girls and the one who is always cheerful. This drives Trevor nuts as he is definitely on the pessimistic and cynical side of things. Gabby has always been intrigued by him and now has a chance to get closer. She feels responsible for his daughter being the one kidnapped and insists on helping him with his search. I love the way that she may be Miss Optimism but she also has a spine of steel. She doesn't let Trevor get away with pushing her away. She also comes to care for him very quickly, especially as she sees how worried about his daughter he really is. She also doesn't let him deny that their attraction is more than just lust. She can see that he cares but isn't yet ready to admit it.
Trevor is in over his head with his baby girl. He never expected or wanted to be a father, certain that he would be no good at it. After years as a cop, his life as head of Colton security is easier but he is still a man that sees the worst of everything. His view of Gabby has always been as a bubble-headed do gooder, but he's pathetically grateful when she takes the baby off his hands and gets her to sleep. When Avery is kidnapped by mistake he suddenly realizes just how much he loves her. At first he tries to push Gabby away, not expecting her to be any help to him. He soon realizes that he has misjudged her and that there is a lot more to her than he had suspected. I loved the way that he was so bemused by his fascination with her. I also liked the way that he discovered that there was no way that he could keep her from helping him. He fought his attraction to her because he is "the help" while she is the boss's daughter, but it was too much to fight. She also made him think about something he thought he'd never have - a family. I loved seeing them all together.
It's going to be interesting to see how all the family dynamics play out. We never did find out who was behind the kidnapping, so that is still out there. The ex-wife who still lives there is a piece of work, as are her two kids - I can't wait to see what happens with them. There's a missing Colton who I am pretty sure will also have a part to play. As usual, I am sure the Colton stories will be page turners.