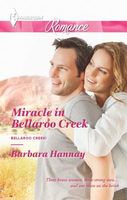 Series:
Bellaroo Creek
(Book 2)
One small town…

Whoever said a broken heart was the end of the world had never met Milla Brady! In desperate need of a distraction, she sets her sights on reviving her parents' bakery. But when a tall, handsome blast from the past turns up, Milla's calm feathers are distinctly ruffled!

One big miracle!

Ed Cavanaugh could only watch when his brother walked all over Milla's dreams -- he always knew she deserved better. So, seeing her looking beautiful and content, he promises not to leave Bellaroo Creek until he tells her what he wanted to say all those years ago….
Good story of second chances. Milla has returned to Bellaroo Creek to recover from a marriage gone bad. With the town intent on saving itself Milla decides to renovate and reopen her parents' old bakery. It's going to be a lot of work but she's really excited about it. When her brother-in-law arrives to deliver some bad news he's surprised by Milla's plans. He thinks she's making a mistake but can't help staying for awhile to help her. Pretty soon he has a lot more than help on his mind.
Milla had left home dreaming of a bigger life to live. After several years of moving around and working in the hotel industry, she met Ed. She was attracted to him but thanks to a past event his intensity scared her off. She ended up meeting and marrying his brother who was an immature cheating womanizer. She left him and returned home to decide what to do next. Finding out about the revitalization efforts was the answer to a prayer and she threw herself into the bakery. When Ed showed up she was upset by his news but had no intention of returning to the US. I loved the way that Milla took charge of her future. Having grown up working in the bakery she knew she could run it. She let Ed know that this was her dream and he had no say in it. She wasn't going to let him talk her out of it. With him staying around for a few days she began to realize that the attraction she had felt for him hadn't gone away. She was also certain there was no future in it so she resisted. I loved her confusion when he kept coming back since she couldn't figure out why. I liked seeing the way that they were able to talk about things and come to understand each other's lives. I loved the way that Milla worried about Ed's decision at the end, the way he had worried about hers at the beginning.
Ed was a really nice guy at heart. He was running the family business when he went to see Milla and try to convince her to come back. He had fallen for her when he first met her but hadn't pursued her when his brother cut in. He especially regretted it when he discovered how bad their marriage was. When he found her in Bellaroo Creek he thought she was crazy for trying to start the bakery back up and tried to convince her to give up. When he couldn't he found himself doing everything he could to help her. I loved seeing the way he constantly found himself thinking about her and how he started to reevaluate his own life. I loved his solution and how everything worked out for them.