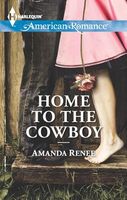 Series:
Ramblewood
(Book 2)
Her Heart Never Left
It seems as if all of Ramblewood, Texas, is far too up-to-date on Tess Dalton's love life, or rather, recent lack thereof. She thought the trip home would help heal her heart-instead it just put her face-to-face with the first man to crush it.
Cole Langtry is determined to fulfill his father's dream of building an equine-assisted therapy facility on Bridle Dance Ranch. He doesn't have time for distractions, especially of the heartbreaking brunette variety. What he and Tess once had should stay in the past.
But when one remarkable little girl finally brings Tess and Cole together, it's hard to remember why they're apart. They've never backed down from a challenge before, but facing their true feelings for each other might be the ultimate test.
Good book. Tess was back in town to help her mom with a wedding and also reassess her future after losing her job. She loves her hometown though not its tendency for gossip. She really didn't need them knowing that she'd been dumped by her fiance. Seeing Cole again brought back memories of their short relationship and final argument. She didn't want to risk her heart again but she couldn't avoid him forever. They started out working together on the proposed equine-assisted therapy. They also took the time to talk about their short relationship. Tess had been somewhat insecure in their long distance romance fearing what was going on while Cole was competing in rodeos. When they were confronted with topless women asking Cole when he'd be back in their beds, she had enough and broke things off. Now the attraction is still there but she doesn't know if she can trust him again. It takes spending time with Cole and a special little girl for her to realize that both of them have changed for the better and the future looks a lot brighter if they face it together.
Cole has been fighting to make his father's dream come true. Two of his brothers are against the facility and it is tearing the family apart. Having Tess back in town is a headache he doesn't need right now. Two years ago he had put his heart on the line and had it stomped on and he wasn't interested in trying again. Unfortunately his heart isn't listening to his head and he finds himself getting Tess involved in his project. After they talked about what had happened in the past he had to admit to himself that he hadn't really thought about the future the way he should have and decided to do better this time. I really liked Cole's dedication to making his father's dream come true, but he was certainly making things rough on the family. I also loved seeing how good he was with little Ever and loved his plan for her future. While his womanizing ways had stopped, he was still having communication issues with Tess, so she spent some time wondering if he loved her or was just taking advantage of both their needs to take care of Ever. I loved seeing Tess point out to Cole and Shane what idiots they were both being about the facility when a little cooperation and compromise would help them both.