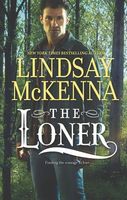 Series:
Jackson Hole Wyoming
(Book 7)
"A man at war with himself"
In all her years as deputy sheriff, Shelby Kincaid never met a man as stubborn as Dakota Carson. Practically eaten by a grizzly bear and still that man insists on returning, alone, to his isolated cabin in the Tetons. Shelby's not even sure why it ruffles her--but she suspects it has a lot to do with the instant, powerful connection she feels with Dakota. If only he'd let down his guard with her....
Ten years as a Navy SEAL took its toll on Dakota's body, his mind and his heart. Since being released, he's endured months of painful physical therapy...and brutal nightmares. Dakota wants nothing more than to hide from the world, so why does Shelby's gentle presence suddenly make him question his seclusion? But when Shelby's life is threatened, Dakota knows his warrior spirit won't hide any longer. He just hopes it's not too late....
Fantastic book. It starts with a rush as Dakota is attacked by a grizzly and must save himself and get to a hospital. While there he meets Shelby, a deputy, who ends up rescuing him when he gets an infection. After he recovers both are asked to serve as trackers for two escaped convicts who have a connection to them both. Shelby's life is in danger and Dakota steps in to protect her. As the search goes on, they grow closer and find that they have the power to heal each other.
I loved both Shelby and Dakota. Besides being a kick butt kind of deputy she is also one of the best trackers in the area. She is frequently called out to find lost campers and so on. Nine years earlier she had been the one to find a man who had brutally raped and murdered a young woman. When she met Dakota she learned that the young woman had been his older sister. Shelby is very attracted to Dakota and is amazed at his skills in the woods. She also finds that his experiences as a SEAL enable him to help her through her own grief over her brother's death. I loved seeing Shelby's kindness and warm heart work on Dakota's stress. She was also able to see past his issues to the kind and gentle man that was also there. She noticed it the most in the care he took of his rescued wolf and how good he was with the little boy they rescued. I also loved her self confidence but that she could also accept when she needed help after she barely escaped one attack. I was impressed by the way that she and Dakota worked so well together and the trust that they built with each other.
Dakota had come home to Jackson Hole after leaving the SEALs. Because of his PTSD he keeps himself apart from everyone and lives alone in the woods. When a grizzly attack sends him to the hospital he can't wait to be released to go back where he feels safe. Shelby was there when he arrived and can't believe he wants to go back immediately, as injured as he is. He accepts her cellphone number in case he needs help, and calls her when he realizes he is suffering from an infection. As he recovers he finds that there is something about Shelby that calms him. When he is with her even being around people is something he can handle. His biggest worry as his feelings for Shelby grow is that his PTSD could cause him to hurt her. When it becomes obvious that the escaped convicts are after Shelby his protective instincts kick in. He was determined that nothing would happen to her and he used every bit of his training to protect her. I especially loved the ending and seeing how much their love was able to counteract the terrible things they had been through.
One of the things I like best about Lindsay McKenna's books is the love and respect that she shows for the military. As a veteran herself she is fully aware of what they go through every day and her books open a window to that world for her readers.