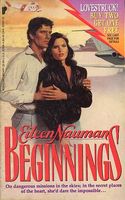 TO SOAR AS A PILOT. TO LOVE AS A WOMAN.

Dedicated to serving the public when emergency strikes, never hesitating to risk their own lives in heart-racing rescue missions, Search and Rescue is an elite corps of helicopter pilots of the United States Coast Guard. Joining their ranks is proud and beautiful Rook Caldwell, a woman who audaciously breaks her way into a close-knit, all-male preserve that jealously guards its privileges against all intruders.

Rook hopes to make the Coast Guard her future as well as her family. Soon, however, she must not only fight to win the respect of her fellow flyers, but come to grips with her unexpected feelings for Jim Barton, a wealthy businessman whose brilliant smile disarms her and makes her fear for her heart. To allow their growing intimacy to triumph as it should, to realize all she has sought so hard to achieve as a pilot, Rook will need both a woman's strength -- and a woman's tenderness.
Fantastic book. I read the whole thing in one sitting, staying up way past my bedtime. I just could not put it down. This is not unusual for any book written by Eileen Nauman/Lindsay McKenna. Rook has arrived at her first assignment as a search and rescue pilot. She is the first woman pilot there and she is nervous about her reception. She ran into a lot of problems while she was training and hopes that this will be different. On the way she is involved in an accident with a logging truck driven by Jim Barton. Jim is intrigued by Rook and would like to get to know her better, but Rook is very wary. Between the prejudices of some pilots, abusive treatment by her father and a couple of bad romantic encounters she doesn't trust men. She has to decide if she is willing to take a chance with him. I loved seeing the acceptance and friendship that Rook received from the other pilots. It went a long way toward boosting her confidence. She also had a chance to reconnect with her brother and mend the relationship that had been destroyed by their father. She had a lot of personal growth as she learned to let go of the past and open her heart to the future.
I loved Jim's whole personality. He was confident without being really cocky. He was very honest with Rook, letting her know he was interested in her. He was also incredibly patient with her fears. I loved seeing the way that he was always there for her when she needed him. He was also man enough to admit when he made a mistake and take steps to fix it. I also loved seeing his vulnerable side show when his father was injured and he was able to lean on Rook for support.
Besides the romance between Rook and Jim there were a lot of other things going on in the book. There is a new base commander who is straightening out the chaos caused by the previous commander. I loved seeing his leadership skills and the way that he earned the respect of his people. He was also fighting issues at home with his oldest son. Gil and his wife Eve were having problems. I really liked Gil but Eve was a first class bitch. I loved Gil's kindness to Rook from the very beginning and the way he made her feel comfortable. Tag was another pilot who was wonderful with Rook. I felt so bad for him with his wife dying of leukemia and the effect it had on his job performance. There were also some well done demonstrations of the problems that women had as they broke into fields that had been men only for so long. I really loved the look at the world of Coast Guard Search and Rescue. The rescues were intense and the disaster response at the end was amazing.