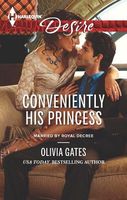 Series:
Married by Royal Decree
(Book 2)
Only one thing stands between Aram Nazaryan and the high-powered position he craves: the proper wife. Although this billionaire would do anything to return to Zohayd, the desert kingdom he considers home, marrying Princess Kanza Aal Ajmaan is too high a price to pay. Or so he thinks -- until he meets Kanza…and she turns his world upside down.

After claiming Kanza as his princess, everything falls into place. But then she learns the truth. She may have married for love, but his vows are tainted by ambition. Will doubt, betrayal and mistrust end this too-convenient union?
Pretty good book. Aram is a high-powered financial wiz. His best friend and brother-in-law is Minister of Finance of Zohayd but would like Aram to take that job. In order to do so he would have to be a citizen and the best way to achieve that is through marriage. Shaheen suggests Kanza, but Aram wants nothing to do with her. He remembers her as a teenager, with obnoxious behavior and even more obnoxious fashion taste. When Shaheen and his wife, who is also Aram's sister, throw them together, Aram is smitten. Their romance is fast and furious, but what will happen when Kanza discovers the truth?
Aram is forty years old and alone. There were many things that led to it, but lately his loneliness has become overwhelming. Even his friend and sister have no real effect because they are so wrapped up in each other. Shaheen wants Aram to take over his minister's job so that he has more time for his family and suggests marrying Kanza to pave the way but Aram is having none of it. When he and Kanza are tricked into meeting, he doesn't recognize her at first and is delighted by the razor wit of the woman before him. When he does finally recognize her he is still enchanted and determined to have her for his own. I liked the fact that Shaheen's suggestion didn't really come into his decision at all. I enjoyed his utter fascination with Kanza's attitude and his appreciation for her intelligence. He realized quickly that making his desires known would send her running so he went for developing a friendship first. They also developed a good amount of trust which showed most when he was telling her about his past. I really liked seeing the fun they had together. I also liked the way that he kept his desire under control for so long. I thought the way that he considered her happiness important was just what she needed. I did think that the wedding itself was a bit too much and took away from its importance. I did like his actions at the end and how he made things work for both of them.
Kanza was quite a character. She was pretty much the forgotten one of her father's nine daughters, so her actions as a teen were her way of being noticed. She had been drawn to Aram even then, but felt that he was way out her league. Then when he was briefly engaged to her sister and broke it off, she only got her sister's side of the story and spent years hating him. She went on to become almost as brilliant a financier as Aram, and started working with his sister. She never realized that their meeting was a setup. I loved the way that she blasted Aram with her accusations, but also that she had the ability to recognize the truth when she heard it. She wasn't very happy with his pursuit of her at first. When he didn't try to seduce her she thought that he was just looking for a friend and was willing to settle for friendship. When their mutual attraction burst into being she was overwhelmed. His proposal was a dream come true for her. One of the things I liked best was her satisfaction at the reactions of her sisters - it had to be immensely gratifying. Then she went from such happiness to such misery that I just ached for her. Her misery matched his, but making it come right was perfect for both of them.