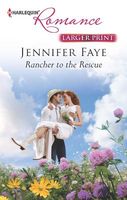 Damsel in a wedding dress!

Jilted at the altar, celebrity chef Meghan Finnegan flees the scene--and the baying press--only to run straight into the muscled torso of Cash Sullivan.

The former rodeo champion knows what's it like to have your life crumble in the spotlight, so he offers Meghan a place to lie low at his ranch.

Fresh air, no paparazzi and the brooding rancher's lazy smile are making Meghan not want to leave her sanctuary. But she and her unborn baby can't stay here forever...can they?
A very sweet romance between two people who are vulnerable but do their best not to show it. Meg is at the altar to marry her fiance and the father of her baby when he tells her he doesn't want her or the baby. As a celebrity chef, the ceremony was being filmed, and as she fled she was followed by photographers. She managed to hide in Cash's truck and begged him to take her away. Having some experience with paparazzi he helps her out by taking her to his ranch to hide out. They are drawn to each other but both have issues that make it hard to contemplate a future with anyone else.
I really liked both Cash and Meg. Meg was a rising star in the tv cooking world and looking forward to her marriage and her future. Her pregnancy was a surprise but there was no way she was going to end the pregnancy. When her fiance waited until they were at the altar to break things off, she ran. She was thankful that Cash was willing to take her to his ranch while she tried to think what to do. She is certain that part of her troubles are because she let her fiance take charge of everything she is now determined to handle everything on her own. She makes a deal with Cash that she will cook and clean in exchange for staying there. As the days go on she discovers that she is attracted to Cash. She also sees a kind, caring man who is hiding some pain of his own. As her attraction grows into love, she starts dreaming of a possible future with him, until he tells her there is no way it can happen. She has continued to try to get her life and career back together on her own, refusing to let Cash help at all even though he has offered. She is hurt and furious when he goes behind her back to help, even though his intentions were the best.
Cash was a sweetheart of a guy. Even though he doesn't like weddings he took his grandma to her favorite tv cook's ceremony. This is why he was outside and witness to Meg's attempt at escape. Having been on the receiving end of paparazzi attention himself, he helped her get away. He also invited her to stay at his ranch though he had some trouble understanding why he felt such a need to help her. I loved his obvious care for his grandmother and how he wanted to make sure that Meg didn't hurt her feelings. As the days went on he found himself more and more attracted to Meg but trying to resist. Cash has ghosts from his past that make him sure that he is unfit to even think about having a relationship with Meg. Even when he tells her about his past he can't conceive of her being willing to tie herself to him. Even though she has said she doesn't want help finding a new job, he puts his own fears aside to work behind the scenes to help her. I loved the ending when he truly faces down those fears to claim her as his own.
I thought both characters were very well done. Each one had believable issues and dealt with them in ways that made sense. I also loved Cash's grandmother and the role she had in his life past and present. She also had no problem speaking her mind.