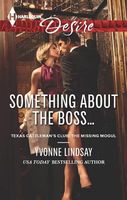 Series:
Texas Cattleman's Club: The Missing Mogul
(Book 3)
Ever since Sophie Beldon's boss vanished, she's been working for Zach Lassiter. But Zach's been acting mysteriously, and Sophie can't help wondering what he's hiding. Could he be involved in the disappearance?

The trouble is Sophie's had a red-hot yearning for Zach from the moment they met. So when she decides to seduce him to uncover his secrets, perhaps she's kidding herself about her reasons. Because the soul-searing passion she discovers in his arms has Sophie praying that her mistrust is unfounded.
Very good book. Sophie is Alex's assistant, but since his disappearance she has been working for Zach. Between the two of them they have been keeping Alex's part of the business going. Sophie has been attracted to Zach from the time they met, but she hasn't done anything about it. Now she's seriously considering seducing him to get close enough to figure out why he's been so secretive lately. I loved Sophie's no nonsense attitude toward her work. She has been used to keeping track of many things since she was a child as she and her mom struggled to survive. It has worked well for her in her job. She has kept her attraction to Zach under control until they go out to dinner for business and he kisses her. The passion burns hot and motivates her to try seduction. While that was her initial motivation, her feelings for Zach quickly overtake her suspicions and she really hopes that he is innocent of her suspicions. When he catches her snooping their newfound relationship is wrecked and Sophie realizes that it is her fault. She also believes that he is still in love with his ex-wife and when she discovers a secret about Anna she thinks that there is no way she and Zach can ever have a future together.
Zach is worried about his best friend. There are rumors that Alex lied about who he is, but Zach doesn't want to believe that's possible. He is also dealing with guilty feelings over the mental state of his ex-wife, so he spends a lot of time on the phone with her. I loved the way that he cared for her even though the marriage was long over. Sophie's presence in the office has been a lifesaver for the business and a personal challenge for him as he fights his attraction to her. When he discovers that it's mutual, nothing can stop them from taking advantage of it. I like the way that Zach feels so peaceful when Sophie is with him. She has a great effect on his stress levels until the night he finds her snooping on his computer. He can't believe he'd been so wrong about her and the feelings of hurt and betrayal are strong. It takes a little while before his logical side makes him feel that he over reacted and he wants to get back together with Sophie. His reaction to Sophie's news about Anna was great. I loved the way he was finally able to convince Sophie of the truth regarding the state of his relationship with Anna. I liked the way he and Sophie finally talked about everything and the decision they made about their wedding.