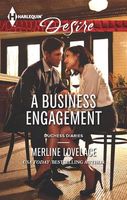 Series:
Duchess Diaries
(Book 1)
When the glossy magazine where Lady Sarah St. Sebastian works as an editor names Devon Hunter one of the Ten Sexiest Single Men, he is besieged by embarrassing attention. The perfect revenge? Force Sarah to play his fiancée during a business trip to Paris. Because of a recent family indiscretion, Sarah must agree if she wants to protect the St. Sebastian name. But in the City of Lights, their fake engagement unexpectedly leads to real desire -- and dangerous complications….
Fun and fast paced book. I really liked both Sarah and Dev. Dev's life has not been the same since Sarah's magazine named him one of the Top Ten Sexiest Single Men. He can't go anywhere without women accosting him and now it's impacting his business also. He's a very private guy and all the attention is making him really grouchy. To top it all off he has video of Sarah's sister stealing an artifact from his home during a party. He needs help countering the female attention and he has picked Sarah to provide that help. To keep him from going to the police, she is going to have to act as his fiancee for the next six months. I loved the way he started out intending a strictly business arrangement but quickly decided he wanted something far more. The conversations between the two of them were great and the chemistry was explosive. He didn't take long to declare his love for her, but also ended up making her doubt that love. When he discovered a photographer from her magazine taking pictures, followed by a kidnapping attempt, he accused her of using their engagement for publicity. He quickly realized his mistake, but the damage was done. I really liked the way he thought about it and went into romantic courtship mode to show her his feelings. And I loved the way he showed up in Switzerland.
Sarah is a fairly reserved woman who works hard at her job. When she is confronted by "Number Three" Dev Hunter, she can't deny the attraction. She is dismayed to hear about the trouble that Gina is in and will do whatever she can to prevent distressing her grandmother. She consents to the fake engagement and rapidly finds that part of her wishes it were real. I really enjoyed their interactions. It was fun seeing her step in to protect him from one female on the first night they had dinner together. She was a reluctant participant at first but was beginning to enjoy it while they were in Paris. Things were going well for them and they decided to make their relationship real. The next day someone attempts to kidnap her and Dev accuses her of participating in a publicity stunt. She is devastated by his accusations and tries to break things off. When Dev apologizes the next day she lets him know her feelings. She thinks they rushed things and should back off and try to get to know each other better before going any further. I loved the way that she was willing to work with him over the disagreement. I also loved the way she had been standing up to her boss and how the latest bit was the final straw. Things were starting to go better with Dev when she finally heard from her sister and went tearing off to see her leaving Dev behind. Loved those scenes in Switzerland - now I can't wait to read Gina's story!