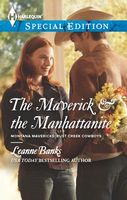 Series:
Montana Mavericks: Rust Creek Cowboys
(Book 3)
Rust Creek Ramblings

Ever since volunteer coordinator Lissa Roarke rolled into town with her fancy luggage and metropolitan attitude, Sheriff Gage Christensen has been fit to be tied. Everything about Lissa seems to rub Gage the wrong way. She talks too fast, she's too bossy, she's just too…darned…irritating. And readers, you know what that means. It's only a matter of time before these two squawking opposites find their way -- together!

But there's a rough road ahead for Rust Creek's sexy sheriff and his do-gooder girl. Can Big Sky and Big Apple make it past the first frost? Just how much will a city girl sacrifice for the strong arms of the law?
Very good book. It's been a couple months since the flood that wrecked half the town and repairs are going well. They're about to go even better as Lissa arrives in town to coordinate a volunteer effort from back east. She gets under Gage's skin right away as he tries to fight the attraction by ignoring her. Lissa has come to do a job and though she feels the attraction also she refuses to be ignored. It isn't long before they're working very closely together.
I really liked Lissa a lot. She is determined to do a great job in her first time as project coordinator. Gage's condescending attitude toward the "city girl" irritated her and made her more determined to do the best she can. I loved the way she didn't let him ignore her and made sure that let him know she wasn't happy with his attitude. When he apologized she accepted it and got him to give her the help she needed. I really liked the way that she threw herself into the work and motivated her crews so well. It was also fun to see how the townspeople took to her right away and treated her just like one of their own. Lissa had always been fascinated by cowboys and getting to know Gage was a dream come true. She knew she was going to be leaving but being with him was something she couldn't resist. I loved the way that she was so obviously becoming part of the community, but neither she nor Gage could see it. I also liked the way that she could see his pain and guilt and and also the protector that he is. She wanted to stay in Montana and be with him and the rest of the town, but thought he didn't want her when he pushed her away. I loved her statement "I'm going to tell Gage that he can't fool me. I have him figured out from head to toe. I'm not backing down this time."
Gage is the sheriff of Rust Creek Falls. He works 24/7 for the people of his town. He feels terribly guilty because he was away on a rare day off the day of the flood. Now he puts everyone else's needs ahead of his own. When Lissa arrives in town he is attracted to her. But she is a city girl and he knows that city girls never stick around in rural Montana. He tries to solve his problem by ignoring her until she calls him on it. As he works with her he sees the good she is doing and is drawn to her. He is certain she won't stick around but is unable to keep from enjoying being with her while she's there. I loved seeing how his subconscious kept picturing her staying with him. Gage is so down on himself that he can't see that everyone around him considers him to be one of the town's greatest heroes. When Lissa arranges for his house to be one of the ones repaired he has a hard time accepting it and tells her that it should have been someone else to get the work done. In spite of her wanting to stay he just can't believe that a city girl will be able to stand staying and pushes her away. I really wanted to smack him for being so blind. I loved it when he finally realized he was being an idiot.
I loved some of the dialogue between Gage and Lissa as Montana met Manhattan and learned to communicate with each other. I also loved the whole episode of Lissa's misadventures driving in the snow and how references to it ran throughout the book. I enjoyed Gage's solution for a couple of the troublesome teens, and how one of them ended up showing a lot of heart. I'm looking forward to the ongoing mayor's race and seeing how it turns out.