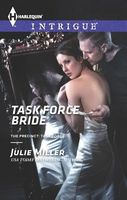 Series:
Precinct: Task Force
(Book 5)
Something about Hope Lockhart fascinated Officer Pike Taylor. The cop and his canine companion had been patrolling the neighborhood around Hope's bridal shop for months, trying to capture the criminal who targeted her. Was it the way she hid her voluptuous beauty beneath a plain Jane exterior?

Hope bore the scars of a troubling past. And despite a profession steeped in romance, she'd never known the love of a man. But when Pike is assigned to protect her by posing as her live-in fiance, his tenderness may give Hope the courage to open her heart for the very first time.
Things are really heating up in the hunt for the Rose Red Rapist. Coming home from working a wedding Hope sees a white van like the one supposedly used by the rapist. Later that night she sees the van again, shortly before another victim is found. When she calls 911 to report the sighting Pike Taylor and his dog Hans are sent to talk to her. Pike has been trying to get to know her for months and now they are being asked to pose as a couple to draw the killer out.
I loved both Pike and Hope. Pike has been drawn to Hope since they met and he has been unsuccessful in trying to get to know her. At first he thought she was just stuck up, but soon realized that she was just very shy. He has patiently been attempting to get her used to seeing him around. When he gets the call to interview her because she saw the white van, he arrives in time to protect her from her estranged father. He is also there when she opens a strange package. That package and the presence of his dog set off a flashback for Hope and Pike realizes that there is more than shyness behind Hope's skittishness. When Pike gets assigned to pose as her fiance to be an undercover bodyguard while they try to draw out the killer he sees it as an opportunity to get to know her better. I loved his patience with Hope and her fears. Once he knows what is causing them he works very hard to help her overcome them. He is also getting more deeply involved with her than he expected. He finds that she is constantly on his mind and he is always thinking of ways to help her. I loved that Pike isn't the smoothest of men, that he's more comfortable with his dog than he is with most people. Even though he has some trouble verbalizing his feelings for Hope, he has no problem showing her how he feels. I loved his rescue of her at the end.
Hope was a woman with a past that had scarred her physically and emotionally. She runs her bridal shop and works hard at giving women the weddings of their dreams, but she is far too wary to get involved herself. The fear that all the women feel because of the rapist/killer intensifies for her when she sees him clearly enough to make her a target. The officer assigned to take her statement is none other than Pike with his dog Hans. Hope is wary of Pike but terrified of Hans, having been attacked by dogs as a child. When she offers to become bait in a trap to catch the rapist, Pike and Hans are assigned to be her protection, with Pike posing as her fiance. Forced into close proximity, Hope discovers that Pike is a kind and patient man who is willing to help her overcome her fears. I loved the way she came to trust him enough to tell him about her past. This freed her enough that she was able to relax around Pike as they got to know each other better. She was also able to accept his help in conquering her fear of Hans. It was a slow process, but portrayed realistically. I loved her confidence that Pike would save her when she was captured. She also showed her strength and her survivor skills while she was waiting for that rescue. Her confident ability to share her feelings with Pike was the perfect ending.
The capture of the rapist was well done. It was the person I thought it was, though I did have a couple moments of doubt earlier in the book. We still don't know the identity of his accomplice, though I do have a couple of suspects in mind. I expect we'll find that out in the next book.