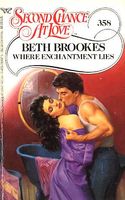 Taylor Grant, burned-out big-city reporter, can't believe his eyes. The gypsy sprite kneeling beside him, as fresh and winsome as a child, has healed a heart-attack victim simply by touching him! It's a terrific story--hut Katie Riordan's not talking. She's incensed when he publishes the incident anyway; attracting to her hordes of curiosity seekers ...and one threatening phone caller.

Appalled because he's hurt her, Taylor offers help... and finds enchantment in her arms. Exotically endearing, demurely provocative, Katie brings new life to his weary world. He hungers for what she possesses, while doubting it even exists... and fights to protect her from a dark, encroaching danger...
Very good book, I loved the subject. Taylor is a former New York City crime reporter who has come to California to work instead. The stresses of his job there contributed to the end of his marriage. He's very cynical about people and also having a little culture shock with the Southern California lifestyle. When he's at lunch with a colleague he witnesses another customer having a heart attack. As he leaps to help, so does a young woman. To his amazement, as he watches her touch the victim he responds and recovers. Taylor wants to know more about her and what she does, but she doesn't want the publicity. Taylor publishes a story anyway, basically questioning whether it is real or a scam. Katie is furious and confronts him with the fact that she's now besieged by reporters and receiving threatening phone calls. Taylor is disgusted with himself for his actions and steps in to try to make things right. He offers to do another story and do it the way he should have at the beginning.
I really loved his willingness to learn as he talked to Katie and the people she helped.

He doesn't expect to be so drawn to Katie. Though he starts out as very disbelieving of her gift, the more he sees of her the more open minded he becomes. He also discovers that being around Katie has started to heal his own mental and spiritual wounds.
He was so cynical and unhappy at the beginning that the effect Katie had on him was incredible. His growing love for Katie scared him at times because he didn't think he could make her happy, but at the end he knew he had to keep her in his life.
Katie was a real sweetheart of a character. She runs her bookstore and takes care of a whole bunch of people. She has had a gift of healing since she was a child. She is very quiet about what she does and wants no publicity. When Taylor comes after her and wants information about what she does she is adamant that she doesn't want to talk to him and she doesn't want her name in the paper. When he publishes a story anyway it gets her a whole lot of unwanted attention. I loved the way she went to his office and confronted him with the effect the article had on her life. She was surprised when he came to her store and offered to help deal with the fallout and to make amends with a properly written article. I loved the way she quickly forgave him and moved on. It was fun to see the effect she had on Taylor and how he saw her as someone so delicate, and yet she had incredible strength to deal with everything she had to. I really liked seeing the way that she sensed Taylor's pain and was determined to help him. She also had the patience to go slowly as they got to know each other. She had a fun way of teasing him into doing things that he normally wouldn't. It was hard for her to accept his help at first with everything but she soon found herself wanting to be with him. I loved seeing her open up to him about what she does and how that also helps him. I also loved the way the community rallied around her at the end and showed her how much she was loved and appreciated.