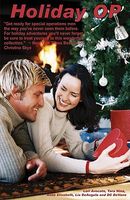 Air Force, Marines, Navy, Coast Guard & Army
Five sweet romantic stories delving into the world ofSpecial Operations from authors who were in the militaryor whose family and friends are part of the militarycommunity. The stories - MISSION MISTLETOE, CHRISTMAS TO THE RESCUE, and THE STOCKING -will bring intrigue, merriment, and joy while TIED WITH A BOW and ALL I WANT FOR CHRISTMAS IS A MARINE will engage your spirit and capture your heart. In HOLIDAY OP, it's a pleasurable duty charged with love.
THE STOCKING by DC DeVane
Marcy Grayson had been in love with Paul Callahan for years. She'd dreamed of a proposal, a ring, and a happily-ever-after since the day she first met him. The winter holidays always brought out the romantic in her, and in him, but how could she possibly have guessed that love - and a "Proposal Paul Style" - would involve a dog, a rubber raft, and the Army Rangers.
Fun story. Starts out with the romantic dinner and Marcy expecting a proposal and instead getting told Paul has joined the army and would like her to care for his dog while he's gone. She loves him, so she swallows her disappointment and goes on. They're great friends too, and she teases him that she's going to send him a teddy bear to keep him warm while they're apart. He's terrified that she will, which would get him all kinds of grief. I loved her letters to him with the descriptions of the bear. Absolutely adored what she sent and the consequences. Have never read anything by this author before - may have to search put something and change that.
TIED WITH A BOW By Anne Elizabeth
According to EOD Specialist Captain Devin Walds, love and bombs have a lot in common. First, it is vital to know the inner and outer workings of both. Second, understanding when and how to get the job done is absolutely crucial. Third, believing it is worth risking your life is mandatory. For Kathryn Marie Pente, he would do anything. From the first moment he saw her, he knew she was extraordinary. It wasn't just her unusual artistic talent or her daring beauty, this was a woman who fought for what was right, and she was worth living...and dying for.
Interesting story with really fast romance. It starts with Devin disarming a bomb in an office in DC, where he sees pictures of the worker and her sister, who is an artist. When Devin is sent to California he meets Kathryn who makes an immediate impression on him, and he on her. When the terrorist bomber comes after Kathryn she has to stay alive long enough for Devin to ride to the rescue.
CHRISTMAS TO THE RESCUE By Lia DeAngelo
Petty Officer Annabelle Foster lives her job as a Coast Guard Rescue Swimmer stationed in Kodiak, Alaska. Until she meets the most delicious sugar cookie snowman ever created, and its equally decadent creator, Food Service specialist, Tony Lombardi. Little does she realize that one snowy mission on a patrol boat decked in lights and holly will lead to one romantic treat after another, and the sweetest rescue of all—her own.
Sweet story. Annabelle is a rescue swimmer and very much a loner. Her mom died when she was young and she and her father didn't celebrate the holidays anymore. Now she concentrates on doing her job. One of her first duties was to participate in the local holiday boat parade with Coast Guard chef Tony. She has a real appreciation for good food and a huge sweet tooth. One taste of his snowman cookies and she was close to hooked. Tony was drawn to her confidence in her abilities and saw the passionate woman beneath the protective shell. I loved the way that he was persistent in his pursuit of her. The description of his dinner and her reaction to it was wonderful.
ALL I WANT FOR CHRISTMAS IS A MARINE by Tara Nina
Locate, identify, observe, and report that's what Staff Sergeant Mitch Sinclair's squad of Force Recon Marines did best. When the objective shifts, it becomes an extraction of a hostage Mitch will never forget and it's up to him to fulfill her Christmas wish.
The story starts off with a bang as Mitch and his squad are in North Korea to rescue Allie, who has been taken hostage as leverage against her father. She's scared but holding up well against the threat to her life. I loved her calm acceptance of Mitch's sudden appearance and readiness to do whatever necessary to escape. She's the stereotypical academic in that she doesn't have a lot of experience with men, but she sure knows that Mitch does something for her. She tries to ignore it since she's sure that she is simply a mission to him. Mitch is stunned by her beauty and impressed by her resilience. He can't get her off his mind as they work their way through their escape. He also has trouble controlling the effect she has on his body, but knows he has to think of her as part of the mission not a woman. I loved seeing his care for her and her fascination with him. Totally loved the ending.
MISSION MISTLETOE by Lori Avocato
When an Air Force nurse falls out of a helicopter (don't even ask!) she thinks that's the worse that could happen. That is, until the paratrooper who parachutes into the desert to save her is none other than the cocky-as-hell guy with jet black hair, Newman blue eyes, and teeth she's convinced are Da Vinci porcelain -- because no one was born with such a perfect smile -- she's been calling "Slick." Sure, he's a damn good looker, but he'd been following her around the base for weeks -- and now falls from the sky with a sprig of Mistletoe in his pocket!
Prue is an Air Force nurse who loves her work, but she'd rather keep both feet on the ground. When it's her turn to be on call she hopes for it to be quiet. When stress sends her out looking for chocolate she runs into the pararescueman who has been following her around. Prue is wary around guys because of her experiences with overconfident jocks while she was growing up, and this guy just gets on her nerves. I loved their encounter with him being so flirtatious and her being tongue tied and klutzy. Shortly after that she gets called to assist with a medevac of a pregnant woman. During the flight there is some trouble with winds and she ends up falling out of the helicopter into a cactus patch. As she's stuck fifteen feet in the air trying to find a way down she hears another helo and out comes "Slick" to save the day. Because of the winds they're stuck there until the helo can come back. I loved seeing Prue get to know Kody and realize that he's nothing like the jerks she had known in the past. I loved seeing her open up with him. I thought Kody was pretty cute with his sense of humor and his talk of chocolate and mistletoe.