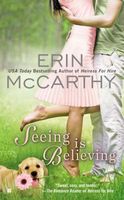 Series:
Ohio's Most Haunted Town
(Book 6)
Cuttersville, Ohio is full of ghosts, and they all want Piper Tucker's help.
One guy in town just wants Piper.

Ever since Piper Tucker was young she wanted to be like everyone else, but her uncanny ability to see ghosts always put her on the other side of normal. And the apparitions are showing up now more than ever, desperately seeking help. But what can she possibly do for them? They've already been dead for years. Besides, she has a personal concern of her own right now. A real flesh and blood concern -- named Brady.

He's Piper's childhood crush, and no sooner is he back in town than sparks start giving off heat. For Brady, it's hard not to notice the sexy young woman Piper's become, or forget the special gift she had as a girl. And right now it could come in handy, because a long-forgotten murder has been keeping a restless spirit from finding peace. All Piper and Brady have to do is solve the crime to put the specter to rest. But the passion brewing between them is just as restless, and could prove twice as dangerous.
Good book. Piper has seen ghosts ever since she was young. She doesn't tell people about it because she doesn't want that kind of attention. She just wants to be normal. While babysitting for a cousin her childhood crush appears to come to there. He has lost his job and is feeling pretty low. He remembers Piper as a child but the grown up Piper knocks his socks off. Even though he doesn't plan to stay in town for long he'd really like to get to know her much better.
I liked Piper. Her ability to see ghosts really freaks her out. She's gotten used to it but she doesn't like it. Brady's appearance in town brings back all her old memories of him. He was nice to her as a kid and didn't make fun of her abilities. She had quite a crush on him and now that crush has turned into an intense attraction. Because of the way her stepfather abused her when she was little Piper has trouble believing anyone would really want her but she begins to believe Brady when he does. I loved the way she took matters into her own hands at the beginning and got the ball rolling. I liked the way that she believed in Brady and that he can recover from his job loss. She spent a lot of time worrying about what other people thought but thanks to Brady started to think more about herself and what she wants. I liked the way that Piper decided that she had to get her own life together before she could be part of Brady's. I also enjoyed the mystery of why the ghost Rachel is suddenly appearing more often and looking angry. Piper and Brady worked well together as they investigated.
Brady was pretty cool. At the beginning he was kind of selfish being most interested in getting Piper into bed and not worrying too much about feelings. It didn't take long before she had gotten under his skin and he was thinking about more than that. I loved watching him look out for Piper when she was dealing with the ghosts. He also understood her self worth issues and was always treating her as a normal woman even when coping with the ghosts. He had a bit of growing up to do yet, but with his growing love for Piper he started to take responsibility for his own happiness. He also has to deal with everyone in town telling him that he's not good enough for Piper. I liked the way that he stuck with her through all of that and cared enough to give her space when she asked for it. I really liked the ending and how Brady helped her with the solution for Rachel.