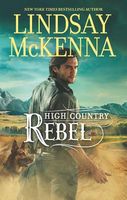 Series:
Jackson Hole Wyoming
(Book 8)
Will a new love summon old enemies?

Battle-weary former Navy SEAL Talon Holt's top priority is to defend his own. With a military dog to care for and his traumatized soul to mend, he hitchhikes from California to Jackson Hole, Wyoming, hoping for a fresh start and to be with his ailing mother. But he can't outrun the ghosts of war-especially when a ferocious storm forces Talon to accept the help of paramedic Cat Edwin. The gorgeous rescuer wants to heal his wounds inside and out, but the fear in her arresting blue eyes calls to his instinct to protect.

Trust just doesn't come easy to Cat, who, thanks to a troubled past and a violent ex, tries to keep Talon at arm's length. Yet attraction draws them together despite the very real danger each of them brings to the other. Now Talon is driven to save Cat, even when it leads to a high-country showdown that could cost them love...and their lives.
Fantastic book. Cat rescues Talon and his dog Zeke from a bad spring blizzard as he is on his way home to Jackson Hole. While nursing him back to health they admit to a strong attraction to each other, but both also have severe issues to deal with. To top it all off Cat is being stalked by her abusive ex-boyfriend.
When Cat finds Talon and Zeke on the side of the road, Talon is near death from exposure and pneumonia. She gets them to the Bar H ranch where she nurses Talon back to health. As a firefighter/paramedic she is accustomed to helping all kinds of people, but something about Talon touches her the way no one else has. Cat was abused by her father as a child and because of it has severe trust issues with men. She has had a couple short relationships with men that turned out badly so she has no confidence in her ability to choose a good man. As she and Talon get to know each other, frequently in late night talks as they fight insomnia, Cat finds that she trusts him completely. She sees the passion he feels for her in his eyes, but she isn't quite ready to deal with it. She accepts his offer of friendship as the building of their relationship continues. When Talon comes to her rescue after her ex attacks her, Cat can no longer deny the attraction she feels for him also. I loved Cat. In spite of her horrific childhood she has become a caring and compassionate woman. In her work as a paramedic she is able to direct that caring in a worthwhile way. With great effort she has developed friendships with her fellow firefighters and doesn't feel threatened by them. I loved her instant connection with Talon as she sensed another soul who was hurting too. I really liked her empathy and how she was able to tell when to talk to him and when to just be with him. As she grew closer to Talon she was also able to share things with him that she hadn't been able to do with anyone else. It was so emotional seeing her trust him enough to cry in his arms. As their relationship deepened she knew that she loved him but wasn't ready to tell him yet. When things went really bad with her ex Cat was afraid she had waited too long. I loved the way that Cat's new confidence in herself helped her at the end.
Talon was a hurting man. His last mission as a SEAL had left him broken in body and spirit. Because of his PTSD and the presence of his combat dog he wasn't able to travel by conventional means, so he was walking and hitchhiking from California to Jackson Hole. He was headed home to care for his sick mother when he was caught in a spring blizzard. Already sick with pneumonia, the storm has been the last straw. If it weren't for the presence of Zeke he would just lay down and die. When Cat pulls over to help him he thinks he is hallucinating the presence of an angel. He stays conscious long enough to explain how to command his dog then passes out as they head for the Bar H. He remembers ranch owner Miss Gus and is grateful for the refuge and care he receives. He is also thankful for the offer of a job on the ranch. He worries that his PTSD will cause him to harm Cat or the others on the ranch but discovers that Cat's care has begun a slow healing process within him. I loved seeing his instant connection with her and how it enables him to help her. He can see the shadows in her eyes and is determined to make them go away. In spite of his intense attraction to her, which he does not hide, he has the patience to go at her pace to develop their relationship. I loved seeing his care for her and how he is able to build her confidence. Talon is fighting his own battles with his ghosts and appreciates the way that Cat doesn't push him to talk. He knows that she is there when he's ready. Just being there with her gives him a peace he hasn't felt in years. He also discovers that being with Cat creates feelings in him that he doesn't recognize. As a SEAL he has had a fair number of encounters with women but nothing has been like it is with Cat. He has no experience with romantic love and hesitates to say that's what he's feeling. But as his protective instincts kick in he realizes that it is love that he feels but thinks it's too soon to bring that up with her. When his abilities as a SEAL are needed to rescue her, he fears he has left it to late.
I loved the way the relationship between Talon and Cat developed. Both of them realized that their issues were something that had to be dealt with. The way that they discovered that helping each other was a key to helping themselves marked a big step for each of them. I loved the way that Cat's past helped her have an empathy for peoples' pain that was unusual. I also liked the way that they took time before making their relationship physical.
Zeke was one of my favorite characters in the entire book. His focus on Talon, especially when Talon was so sick, was so moving. I loved the way he was described as having such expressive eyes. The descriptions of his training and his role in Talon's SEAL unit were great and really gave me a good picture of how important the combat dogs are. I really liked seeing him make Cat part of his "pack" and loved his begging for marshmallows.
Having the book take place on the Bar H was wonderful because I love seeing previous characters. It's lovely to see Griff and Val doing so well. Miss Gus is as wonderful as always. Loved the way she took Talon in so easily and gave him the security of knowing he had a job. Also loved her friendship with Talon's mom and the way she and so many others helped take care of her. Her actions at the end showed just how big of a heart she really has.