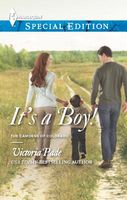 Series:
Camdens of Colorado
(Book 3)
Lang Camden has the daddy of all dilemmas! He just found out he's a dad…of a rambunctious two-year-old. He's now the sole guardian of said toddler and he's never pulled diaper duty in his life! What's a man to do?

Enter Heddy Lanrahan, the widowed baker who's as luscious as her cheesecakes. Lang's on a mission to help her business, and Heddy willingly lends a helping hand with his child. The chemistry between them is off the charts -- but the history between their two families is complicated, and if Heddy lets herself love this man and his little boy, she could lose everything. Is it a risk she's willing to take…for love?
Very good book, highly emotional on Heddy's side. She had lost her husband and infant daughter several years earlier. Now she fills her time making cheesecakes and selling them from her bakery. Many years earlier her grandfather and mother had owned a bakery and had gotten involved with the Camden family. When her mom's romance with Lang's dad fell apart, the Camdens also pulled out of a business deal with them, ruining their business. Now Lang wants to help Katie with her business. Katie isn't sure if she can trust him, but she knows she needs help. There is also an intense chemistry between them. Katie doesn't want to have feelings for Lang. Even though her husband and daughter have been gone for a long time, she still considers herself to be Daniel's wife and Tina's mother. Feeling something for Lang makes her feel terribly disloyal and it is tearing her apart. She has also come to care for Lang's little boy, the first time she's been able to be around a child since her daughter's death. I felt so bad for Heddy. She was afraid to move on because she didn't want to forget Daniel and Tina, but she had also fallen hard for Lang and Carter. I loved seeing the way that she came back to life thanks to being around them. Being with Lang and Carter opened her eyes to the possibility of a future but scared her also. I especially loved the scenes where Heddy was helping Lang with Carter. It was those things that really helped the healing process along. It took some really straight talking from her mom for Heddy to accept that it was possible to honor her family's memories without depriving herself of happiness.
I loved Lang. He hadn't expected to find out that he was the father of a two year old boy. He had great support from his family but tended to leave Carter's care to them. When they finally told him he had to step up and actually become involved himself, he was totally lost. I really loved watching him try to cope with all of Carter's antics. Because he usually had Carter with him, things with Heddy often ended up being more than just business. He was very attracted to her, but felt that he wasn't a good relationship bet because of needing to concentrate on Carter. The more time he spent with her the harder he fell. He was still reluctant to pursue anything permanent because he had been hurt in the past, but his heart had other ideas. I really liked the way that he understood Heddy's feelings about her family and wasn't giving her any problems about it. I also loved the way that he was so intent on helping her with her business and the way he worked so hard to keep it separate from their personal interactions. I also still love his family and how they are always there for each other. I adore his grandmother GiGi and her down to earth was of treating them all. It was great to see that they weren't the obnoxious type of rich people thanks to her training.