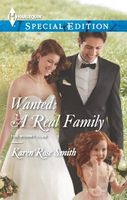 Series:
Mommy Club
(Book 1)
In the first book of her new miniseries The Mommy Club, Karen Rose Smith introduces readers to down-on-her-luck single mom Sara Stevens -- and the sexy photojournalist who just might be her knight in shining armor…

Two years ago, Sara helped to heal Jase Cramer's injured body -- and his soul. Now, with their home destroyed in a fire, she and her daughter are the ones in need. Accepting Jase's offer to stay at his family vineyard is a temptation the widowed physical therapist can't resist. But can she put the brakes on the sparks flaring between them?

Jase never forgot Sara's tender loving care -- or the attraction that couldn't go anywhere. Now she's back in his life, awakening feelings that bring back memories of heartache. With the help of Sara's little girl and The Mommy Club, the volunteer group that's transforming their California community, Jase just might be ready for a second shot at love…and the family he always wanted!
Good book. Two years ago Sara had used her skills as a physical therapist to help Jase heal from physical and emotional wounds. Now, thanks to a fire, she and her daughter need a place to live. Jase takes the chance to repay her by offering the guest cottage at his family's winery. Sara accepts the offer, but is worried about the attraction that is affecting both of them. Her marriage before her husband's death hadn't been a happy one and she is reluctant to get involved with anyone. Jase is also reluctant to get involved in anything permanent.
Sara is still in shock over the loss of her home when Jase offers the use of the cottage. She remembers him well from when he was her patient and is glad to see that he's doing so well. What she doesn't expect is the burst of attraction she feels toward him. Her focus right now is on her daughter and on recovering from the fire. Her husband also left a lot of debt when he died. She had trusted him when he said everything was fine and now she questions her actions. Jase doesn't hide his attraction to her but tries to give her space. As she gets to know him better she likes the way that he acts with her daughter but worries that he will go back to his traveling ways and they will be hurt by his absence in their lives. She also sees him renewing his love of photography and writing as he starts a series of articles about the Mommy Club. She is hesitant to be interviewed because of her preference for privacy but Jase convinces her. I liked the way that she waited to get intimate with Jase until she was sure of her feelings. I also liked that she was honest with him about the fact that she doesn't do "just sex" that there has to be an emotional connection. She has to decide at the end if she's willing to take a chance on them.
When Jase first met Sara she was his physical therapist. In the course of his treatment she had also helped him deal with his emotions after the breakup with his fiancee and the things he had seen during his last photo shoot. He had felt a connection with her but she was married so he knew it wouldn't go anywhere. He was happy to be able to help her after the fire. He also discovered that his attraction to her hadn't gone away. Now he's working at the family winery and finding any excuse to see Sara and her daughter. After his breakup he had put aside any thoughts of having a family of his own. Between the problems with Dara and his own rocky relationship with his adoptive father, he felt that he wasn't emotionally suited for long term like that. I loved seeing him with Sara's daughter Amy, and how great he was with her. He loved playing with her, reading to her, just being around her - it was obvious to everyone what a great Dad he would be. Being around Sara also started to break down the walls he had built up. He was starting to remember the good things about his photojournalism not just the bad memories from the last trip. He put those feelings to use in a series of articles about the Mommy Club that ended up bringing him a chance to go back to doing the work he used to love. He has to decide if he wants that enough to leave everything else behind or try to find a way to have it all.
I also liked seeing Jase's dad. He comes across at first as kind of a cynical grouch. He and Jase don't have a close relationship and it has affected Jase's personal life. Through some conversations he has with Sara it becomes obvious that he loves Jase but never learned how to express it, leaving Jase with the feeling he doesn't care. I loved the way that Sara helps them connect with each other.
I'm looking forward to more stories about the members of the Mommy Club. I love the idea of the club and the way they help each other. This looks like it will be a very good series.