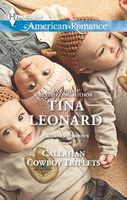 Series:
Callahan Cowboys
(Book 12)
His Callahan Destiny?

Tighe Callahan is wild and free as the wind, until he starts chasing the beautiful River Martin. After he catches her -- in a midnight seduction he'll never forget -- Tighe learns he's about to become a daddy…three times over! Not even an ornery bull can stop him from making River and their babies-to-be his.

Standing down isn't in River's vocabulary. Tighe can insist on doing the honorable thing all he wants -- she isn't tying the knot until the cowboy says he loves her. Only, now her wounded warrior's on some dangerous, life-changing quest.

Tighe's finally ready to heed the message of his ancestors: defend his land and claim his woman. Because it's never too late to become the Callahan he was destined to be!
I enjoyed this one, especially seeing footloose Tighe get roped himself. He has fancied himself in love with River ever since she came to Rancho Diablo as nanny bodyguard to Sloan's kids. I found that a little hard to swallow, since he had never even been able to get her to go out with him much less been able to really get to know her. As the book starts he is getting ready to ride a bull that no one has been able to ride yet, and everyone is trying to talk him out of it. But Tighe is competitive and stubborn and refuses to give up. River goes to him that night in hopes of distracting him and ends up pregnant with triplets for her trouble. Tighe is thrilled and sets out to convince River to marry him. The family is also still trying to keep their uncle from causing trouble on the ranch as he tries to find out where their parents are. He succeeds in kidnapping Fiona, and then takes River hostage when they try to rescue Fiona. Tighe has a tendency to just jump into things and having to sit back and wait for the right time to rescue the two women grates on him. I loved the way the rescue mission went down. Tighe also becomes very protective of River and the babies when they are born, rarely letting them out of his sight. I enjoyed seeing him change from the brash cowboy to the man who watches out for his family and their home.
River was quite a character. Fiercely independent, she is a very capable bodyguard. She has been interested in Tighe but has no intention of becoming another notch on his bedpost. She wasn't sure how she got roped into the plot to stop him from riding the bull, but she was more than happy to put her own twist on the plan. I loved the way that she admitted the pregnancy but wouldn't be railroaded into a wedding. She also fully understood Tighe's stubbornness and didn't try to talk him out of his guard duty plan, even though he was injured. When they went on the rescue attempt for Fiona she refused to be stuck waiting in the background and did her own thing. It backfired somewhat and she ended up a prisoner along with Fiona. I loved the way that she and Fiona worked their own plan on Wolf and his thugs and then she took care of her own rescue. I also loved her encounters with the magic wedding dress and its effect on her. She admitted to herself that she loved Tighe but was really hoping for a confession of love from him. I enjoyed her reaction to his constant presence and wish that he would lighten up some. She was touched by his desire for a second wedding ceremony so that she could wear the dress.
Things are starting to get more desperate with Uncle Wolf and his desire for the whereabouts of the older Callahans. It will be interesting to see what else he does and how he is stopped.