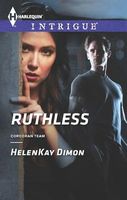 Series:
Corcoran Team
(Book 2)
What happens when the only man who can protect you is also your best customer?

Kelsey Moore looked forward to her daily visit from Paxton Weeks. Watching the broad-shouldered, quiet man led to some wonderful daydreams. But for real? That was downright dangerous….

It was no mistake Paxton visited Kelsey's shop every morning. This was his first mission back from injury and he had something to prove: stake out the shop for a wanted man and take him in. But when two robbers hold Kelsey at gunpoint, Paxton blows his cover to save her life -- and adds bodyguard to his list of duties. Now, with his secret out in the open -- and her life in danger -- the days have just become far from routine….
Very good book, full of action from the very beginning. Kelsey loves her coffee shop and for a bonus the last two weeks there have been daily visits by Paxton Weeks, a definitely sexy guy who has been flirting with her. When two guys try to kidnap her it's Pax who comes to her rescue and then whisks her away to protect her from the people who are after her to get to her brother. I really liked Kelsey. She had a crappy family life thanks to her con man father and has been estranged from him and her brother for years. She doesn't trust easily and when Pax suddenly turns into a fighting machine and tries to get her to leave the shop, she isn't going to go easily. I loved the way she stood up to him and fought back until she was convinced he was at least the lesser of two evils. It was even better when he got her back to Corcoran's headquarters and she stood up to all of them. I loved the way that she had them cooperating with her. She does a great job of handling the stresses of being attacked. She also goes from not trusting Pax to trusting him pretty quickly. The attraction between them has been building during his visits to her shop, and now it really takes off. They have to try to keep a lid on it as they try to find her brother and figure out who is after Kelsey. I also liked the way she seemed to understand Pax pretty well.
Pax is a great hero. He was injured saving his brother's girl in
Fearless
. Now he's recovering and has been given the job of staking out Kelsey's shop to see if her brother shows up. When two guys try to kidnap her he breaks cover to save her. Even though he gets frustrated when she doesn't just do what he says, he's pretty impressed with her self-preservation skills. When he finally gets her away he ends up telling her more than he's supposed to because he understands that's the only way to get her to cooperate. He really wants to keep her safe and her insistence on being an active participant makes it much harder. It also makes it hard to fight his attraction to her, which can be a distraction under the circumstances. I loved his protectiveness and the way he got angry on her behalf over the way her father and brother treated her. His vulnerability showed at the end, and he was able to show her that he really cared.
The mystery itself was pretty good. Of the secondary characters, I really liked Joel. His work as the tech and communication guy put him in the spot for some marvelous lines. I'd love to see him get his own story soon.