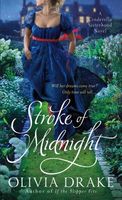 Series:
Cinderella Sisterhood
(Book 2)
The infamous Laura Falkner has returned to Regency London society in disguise. Determined to clear her father's name, she becomes a companion to elderly Lady Josephine -- only to learn the woman's nephew is none other than Alexander Ross, the devilish Earl of Copley, the man Laura once loved with all her heart. The same man who'd accused her father of theft and forced them to flee England.

Alex has never forgotten Laura -- or forgiven himself for letting her go. Today, Laura is as lovely -- and stubborn -- as ever, and her attempts at crime-solving are putting her in danger. The only way Alex can keep her safe is to marry her. But how can this notorious rake convince Laura that his heart is true…before the clock strikes twelve?
Pretty good book. Laura has returned to England to find that her father has been murdered, still without clearing his name. She decides that it is up to her now, though she isn't quite sure how she'll go about it. She manages to find a job as a companion to an old lady, only to discover that she's the aunt of the man Laura had loved, but holds responsible for her father's troubles. She doesn't trust his offer to help her but feels like she has no choice.
I liked Alex. He had made mistakes in the past and was keeping secrets, but his feelings for Laura were real. He had started courting Laura all those years ago as a way to keep an eye on her father. His godmother suspected him of stealing her jewels. It didn't take long for Alex to really start to care for Laura. When he found the stolen earrings he felt compelled to attempt to apprehend her father. Laura attacked him and she and her father fled. Now he has found her acting as his aunt's companion and planning to solve the mystery herself. He is certain that he was right, but tells Laura that he will help her as a way to protect her from any more scandal. I liked his intent to protect her and he certainly hadn't stopped caring for her. He didn't want to admit it was love. I liked seeing him marry her since it was obvious he cared, but he was still keeping secrets from her. I didn't like the way that he wasn't really open to the idea that he could have been wrong until it was almost too late.
I liked Laura's unshakeable belief in her father's innocence. She had been very much in love with Alex all those years ago and was devastated by his actions. When she returned to London she was determined to avoid him. Her anger with him was still very strong. When she discovered that she was working for his aunt she was sure she would be arrested herself. When Alex offered to help her she wasn't all that sure she should trust him but she felt she didn't really have a choice. She still sensed that he was only humoring her and was planning to continue her investigation anyway. She was certain she knew who was behind it and was sure she could find the proof. The more time she spent with Alex the more she realized she still loved him, even though he gave no indication that he loved her back. When Alex's secrets came out she was devastated all over again. I thought she was awfully gullible at the end when she ended up in the hands of the real thief. She was very lucky that Alex was smarter than she was.