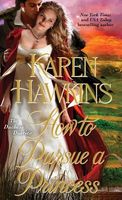 Series:
Duchess Diaries
(Book 2)
An innocent lost in the woods . . .

The sensible solution to her family's dire financial woes is for Lily Balfour to marry the Earl of Huntley, a wealthy widower handpicked by her matchmaking godmother, the Duchess of Roxburghe. Huntley is pleasant and attractive, the perfect candidate in every way. But Lily knows she's in big trouble as soon as passionate, unprincipled Prince Wulfinski sweeps a hot, possessive glance over her.

Powerful and sexy, Wulfinski declares he will make her his -- no matter the cost.

By his own account, Wulf is a pauper, barely able to afford his own cottage. Yet nothing will stop him from pursuing the elusive beauty with every cunning trick he can muster. But which is more important: power and money . . . or love everlasting? To make the right choice, both Wulf and Lily must trust their hearts, not just their heads, to lead them to the happiness they desire.
Neat take on Little Red Riding Hood. Lily's father has put them in debt and she feels the only way out is for her to marry a rich man. Her godmother finds the perfect candidate and sets up a house party for them to get to know each other. This gets interfered with when Prince Wulfinski sets his sights on Lily. He portrays himself as poor because he's tired of being pursued for his money not himself. She is drawn to him but determined to save her family. The fun comes as he tries to persuade her that loves matters more, she tries to resist, and her godmother and his grandmother try to keep them apart.
I liked Lily and Wulf. Lily's decision to help her family is commendable, but she goes into it without having truly looked for any other solution. Her meeting with Wulf shakes her up because he stirs feelings in her that she's never had before. She isn't really looking forward to meeting the Earl of Huntley because she wanted to marry for love, like her sister (How to Capture a Countess). She was sure that if she spent enough time with him she would fall in love with him. The problem is that every time she turns around Wulf is there scrambling her senses. He states his love for her early on but she refuses to believe that love that quickly is possible. She fights him all the way determined to stay on her course to save her family from ruin. It was interesting watching Lily cope with the two men. She couldn't help comparing them and the one she was chasing never measured up to the one she really wanted. The times she spent with Huntley were pretty darn boring, especially since she couldn't even get him to kiss her. Times with Wulf usually involved some lively conversation, some kisses and him still trying to convince her. She spent a lot of time wishing it were possible but still not trying to find a solution herself or asking Wulf to help her find one. Her use of the tea that Wulf's grandmother gave her surprised the old lady and went a long way toward changing her attitude toward Lily. I saw her actions at the end coming but they were satisfying anyway.
Wulf was quite a character. He is handsome, wealthy and confident. He's also tired of women coming after him because he's rich. He's come to the area to live as if he is poor to see if someone will love him just for himself. When he rescues Lily after she's fallen from her horse he is immediately smitten by her. He sets out to woo her and is surprised when she denies him. He is not accustomed to being denied something he wants and pretty much ignores her demands. I really enjoyed seeing him run up against society's rules and how Lily won't ignore them. It only increases his determination to win her. I liked the way that he is so open about his feelings to her. He is very protective of her and always seems to be around when she needs rescuing. I also enjoyed his scheme to distract both Huntley and Lily from each other. I loved his frustration with her and how it made him change the way he looked at some things and eventually understand her a little better. I had great fun reading the ending and how it all worked out.
The Duchess and her friend Charlotte were also instrumental in this story. She was so sure that she had everything under control and that it was going the way she wanted. Loved seeing her take credit for the ending even though it wasn't her original plan. I also loved her feud with Wulf's grandmother. The two of them were so much alike that it was fun seeing them butt heads. I also enjoyed the secondary character of Emma and how she helped Wulf along with his plans.