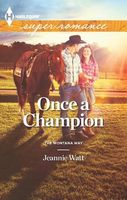 Series:
Montana Way
(Book 1)
It starts with the horse...

Liv Bailey never forgot her high school crush. Champion roper Matt Montoya always did have that irresistible daredevil swagger. But Liv isn't Matt's shy tutor anymore. She's a grown woman and a physiotherapist with a painful past. Matt isn't the only tough one now, and when their tempers clash over a horse they both claim ownership of, sparks fly in more ways than one.

Liv's willing to let Matt bring some passion into her life, but when he opens his heart to her, she's scared of being hurt again. Liv knows there's more there than just desire-if she can only trust the cowboy who loves her.
Good book. I liked both Matt and Liv though both had their moments of frustrating me. I did enjoy their sparring. Liv had come back to Dillon after breaking things off with her fiance. She realized that she had become someone she didn't like by not standing up for her wishes against giving in to his. When it came down to buying a horse she wanted she put her foot down and realized that she had to get out. She moved back home and started her life over. When Matt showed up trying to track down his horse, she gave him a cold shoulder. She was still angry over what she perceived as his treatment of her in high school, plus she was certain that he had been the one who had abused the horse she had now. But there was still something about him that drew her and she was determined to fight it. As she gets to know him again the sparks between them only get stronger. She knows that she's falling for him, but she is terrified of losing herself again. I thought it was very interesting the way that she went so far in the other direction from being submissive to being too independent and inflexible. She got really frustrated with her father and his attitude but couldn't see that she had become just like him. She also had been unhappy with the way her ex tried to tell her what to do with her life, but then turned around and tried to tell Matt that what he was doing was wrong. It was almost too late when she realized what she had been doing and that she needed to find a middle ground and let go of the past.
I liked Matt a lot. Though he had been a pretty typical teenager, not thinking about anything other than his own needs and wants, he's done some growing up since then. I liked the way that he steps up to look after his cousin's son Craig while she is away and how well he deals with the boy. I loved seeing the two of them become friends and how Craig went from something of a geeky loner to one who got involved with what Matt was doing. However he is still pretty blind when it comes to his career as a roper. He has had a bad knee injury and all the doctors are telling him that he cannot go back to roping or he risks permanent injury. He refuses to accept it and is continuing with his plans for a comeback, including doing some things that are questionable medically. He is also looking for the horse that disappeared while it had been left with his ex-wife and is stunned to find out that Liv has it - and believes that he had abused it. He is attracted to the grown up Liv and wants to get closer to her. He doesn't understand why she keeps pushing him away. I liked his determination to win Liv over. He does a lot of giving in to her in order to do it, until he finally has enough. I loved seeing the way it was Craig who ended up helping Matt and Liv get together.