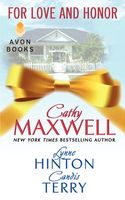 Series:
Sweet Texas
(Book .5)
In New York Times bestselling author Cathy Maxwell's The Bookish Miss Nelson, it's the duty of daring Army Captain William Duroy to escort Miss Pippa Nelson through enemy territory, bringing her safely home to England. But can he resist falling in love?
Good story. William and his men are in trouble for fighting so as punishment they are assigned to escort Pippa to Lisbon so she can be returned to England. He is not happy since it's possible he will miss the coming battle. Pippa is not happy since she doesn't want to go to England, being very happy following her father around. William isn't used to someone arguing with him and finds himself quite intrigued by Pippa. When she sneaks off to return he follows her. They work well together in the face of danger and discover and unexpected attraction. I loved the ending and how well things worked out for them.
In Lynne Hinton's Letters From Pie Town, a New Mexico town couldn't be prouder of its very own Raymond Twinhorse, injured while fighting in Afghanistan. So Trina Lockhart gathers letters from Raymond's friends and family, hoping their wishes will help to heal the man she loves—and bring him back home.
This was my least favorite of the three stories. Raymond has been injured and is in the hospital in Germany. Trina has rallied the town to send him cards and letters of encouragement. That's all this story is - a few letters. There is nothing from Raymond's point of view or what is actually going on with him. I didn't connect with anyone here.
In Candis Terry's Home Sweet Home, Lt. Aiden Marshall returns to Sweet, Texas, after facing the devastation of war. With the help of the entire town—and a tail-wagging companion—the woman he's always loved makes her hero's homecoming all the more sweet.
This was my favorite. Aiden has come home to Sweet. He lost his two best friends in the fighting and is dealing with terrible survivor's guilt. He had also made friends with a dog over there and was devastated to have to leave him behind, adding to his guilty feelings. He still loves Paige but feels that he is a bad bet and doesn't deserve to be happy. Paige is finally able to get him to talk about his experiences and lets him know that she is not going to give up on him. She knows just how to help him and with the town's cooperation is able to give him a soul healing surprise.