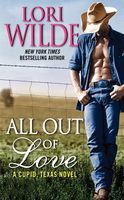 Series:
Cupid Texas
(Book 2)
Football star Pierce Hollister has fame, fortune, and beautiful women who'll do anything for him . . . whether he asks them to or not. But when it all comes crashing down, Pierce finds himself back home, running the ranch in Cupid, Texas, wondering how it all went wrong.

But one thing is right: Lace Bettingfield. The former plain-Jane has turned into a luscious knockout--trouble is, she won't even give him the time of day no matter how many passes he makes.

Being in love with your older brother's best friend is awkward enough, and Pierce was the cause of Lace's most embarrassing high school moment ever when her secret letter to him declaring her love landed right on the front page of the school newspaper Pierce is still as stubborn, sexy, and arrogant as ever . . . but Lace is about to see that things aren't always as they seem . . . especially when it comes to love.
Such a fun book. Lace suffered terrible humiliation when her crush on Pierce was published in the school newspaper. She had been shy, slightly overweight and stuttering, but adored her brother's best friend. Now she's all grown up and has put the past behind her. She loves her job as curator of the Cupid Botanical Gardens. So she still has the problem of most of the town still bringing up that unfortunate event - she just tries to ignore it. When Pierce suddenly comes back to Cupid, she's dismayed to find that those feelings are still there. She's determined that she won't fall prey to his playboy ways. I really liked Lace. She's smart, she's sassy, and she's pretty content with her life just the way it is. When Pierce shows up and starts putting the moves on her she is determined not to give in. She sees him as the same arrogant jerk he was in high school, and that he just wants her because she's there. I loved the way that she talked back to him and didn't just fall at his feet. She worked really hard at keeping him at arm's length until she ended up needing his help for a fundraiser. Then she had to meet his conditions and actually spend time with him. As she did, she discovered that there was more to Pierce than the playboy he was portrayed in the press. She finds him to be sensitive to her wishes, determined to help his father get better, and worried about his future. She worried about falling for him all over again, and that she'd get hurt even more. Her feelings ended up being even stronger, and her self worth issues popped up again making her doubt that he would be interested in anything permanent with her.
Pierce had been the star quarterback in high school, with girls falling all over him. Being a typical teenage boy he didn't exactly chase them off. He hadn't been aware of Lace's crush and felt really bad about her humiliation but there wasn't anything he could really do about it. What he never admitted to anyone was that he had liked her too. But in high school four years is too big a gap, plus you don't put the moves on your best friend's sister. When he comes back to Cupid twelve years later he is recovering from a badly broken leg that may end his football career. He is also helping his brother with the family ranch while their father is sick. When he runs into Lace he is stunned by his reaction to her. She's nothing like the women he usually dates, but he can't get her out of his mind. He makes it clear to her that he is going to pursue her. At first he is just interested in sleeping with her, but as time goes on he realizes that he wants more. I love his reactions to her sassy rejoinders and that he appreciates her wit. I'm also glad that he likes her body just the way it is and doesn't hesitate to let her know it. It was fun seeing him use the fundraiser as a way to get her to spend time with him. He was also surprised by her support and understanding with his father's illness and his own injury and recovery. It only made her even more appealing to him. I loved the way that he accepted his feelings for her before she admitted hers. I loved his "go big" moment at the end.