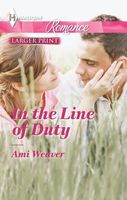 A risk worth taking?

Ever since Callie Marshall's husband died in the line of duty, leaving her and their sons behind, the boys have become her absolute priority. She's doing her best to minimize any risk to their carefully ordered world….

Ex-soldier Matt Bowden's middle name is "risk." Struggling to cope with his return to civilian life, he channels his energies into his adventure company. Callie has always been able to knock the air from his lungs, but she was his friend's wife and he's used to burying his feelings.

Now everything's changed, and Callie needs someone to step up…. Is Matt the risk she's been holding out for?
Very good book. Callie has managed to put her life back together after the death of her firefighter husband. Her sons are the most important things in her life and she is doing everything she can to make sure they are safe. When her husband's best friend moves in across the street, things begin to change. Being around him begins to wake feelings in her that she never expected to feel again, and she's not comfortable with that. Plus he runs a high adventure company which puts him in a high risk category she has sworn to avoid. For the most part I really liked Callie. She's pulled herself together and is slowly getting on with her life. Her reactions to Matt scare her and she pushes him away as hard as she can. But that doesn't hold up as she finds him getting involved with her sons and coming to her rescue during a storm. She worries about what will happen if the boys get close to him and then he leaves. She has gone a bit overboard in trying to protect her boys from risk and gets defensive when she gets called on it by Matt and others. Her growing love for Matt is something she doesn't want to admit to herself especially with her blind spot concerning his work. Watching her work through everything was satisfying and felt very realistic.
I loved Matt. He was surprised to find that he had moved in across from Callie. She'd always appealed to him but as his best friend's wife he had buried those feelings deep. Now Jason's no longer there, but even thinking about Callie that way makes him feel very guilty. I love the way that he has so much fun with Callie's kids. It shows that he has the potential to be a great father even though he doesn't think that's possible for him. I loved the way he had Callie and the kids stay at his house when hers was storm damaged. It was great seeing the way that having them there changed his life so much. I also liked the way that he saw Callie's issues and tried so hard to show her what she was missing. I loved the story behind his dog Aldo and how it contributed to the man that Matt is.