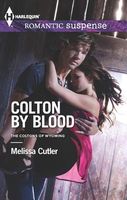 Series:
Coltons of Wyoming
(Book 2)
An unsolved murder haunts those who live and work at Dead River Ranch. When called to care for the ailing Colton patriarch, Dr. Levi Colton must face the father who never claimed him. He's not looking for distraction, but he finds it in Kate McCord, the irresistible pastry chef. Beneath her sweet smile are scars from her own tragedy -- and a determination for justice.

As a wildfire forces them together with an unknown killer, Levi and Kate must confront an attraction that flares hotter than flames. They edge closer to the truth, discovering that the secret that links their pasts could lead them straight into the killer's trap.
Very good book, second in the series. Levi was asked by his half-sisters to come to the ranch and try to get their father to accept medical treatment. He is reluctant because Jethro never claimed him as his son and is still resentful about it. He is immediately attracted to Kate who is the pastry chef for the ranch. Kate is glad to be employed at the ranch because she has a lot of debt to repay. Many of the people she works with/for are pretty obnoxious. Kate is drawn to try to find out who killed the woman in the first book because Faye had been like a mother to her. Kate is also attracted to Levi but doesn't want to risk her job. As the days go on the attraction gets stronger but Kate is also in danger.
I really liked both Kate and Levi. Both are good people who have had bad things happen to them, but both are survivors. Kate was married and pregnant when they were involved in a car accident that killed her husband and unborn baby. She also lost her business leaving her with a lot of debt. She has closed herself off from involvement with anyone else, feeling that she can't handle the pain of another loss. One of her closest relationships on the ranch was to Faye and now she feels compelled to try to discover who the killer is. Levi's appearance on the ranch makes Kate feel things she swore she would never feel again. It doesn't take long for her to decide to go ahead and give in to the desire but to keep her emotions locked up. I really enjoyed the way that Levi ended up knocking down her walls. He had a true appreciation for the job she does, especially since he has a major sweet tooth. I loved Kate's compassion for other people. She enjoys creating desserts for Jethro even though he's a grouch because she feels sorry for him. Her depth of understanding for Levi as he deals with his father, the memories of being back in his hometown, and also memories of his mother are another demonstration of her growing love for Levi. Even discovering the connection between the two of them isn't enough to keep her down for long.
Levi is a great hero. He is kind and compassionate which shows in his work as a doctor. But he is also strong and sexy. He wants nothing to do with the father who has denied him all these years, but he can't say no to his half sisters when they ask for his help. He arrives at the ranch and meets Kate right away. His attraction to her is immediate, but he also realizes that there is more to it than just desire. He also takes on his father right away and doesn't back down from Jethro's contrariness. I really loved the way that Levi is constantly in Jethro's face about the way he treats other people. Levi's compassion is also obvious in the way that despite Jethro's attitude Levi still wants to do his best for Jethro's health. I also loved his protectiveness toward Kate. Besides standing up for her against Jethro, he is also worried about her involvement in trying to find Faye's killer, especially after Kate is attacked. Add in the wildfire that is threatening the ranch and Levi realizes that he wants Kate in his life forever.
The mystery is proceeding, not too fast since it has to last through six books. There is another murder, Kate is threatened and attacked, and the mystery of the kidnapped Colton baby is ongoing.