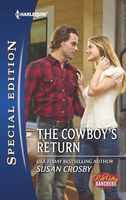 Series:
Red Valley Ranchers
(Book 1)
A GOOD MAN IS HARD TO FIND

Single mom Annie Bernard needed a new beginning for her young son and a miracle for her run-down farm. Enter Mitch Ryder, the sexy blue-eyed handyman who answered her call for help. Their attraction was instant, and with Mitch's tender ministrations, more than Annie's farm began springing back to life....

Mitch yearned for a fresh start of his own-or at least more time before he had to return to the life he left behind. And what better way to avoid his past than to mistakenly slip into the role of Annie's handyman? But he'd never counted on falling for Annie and her precious son. His true identity might be hidden, but his feelings toward Annie might be too strong to hide....
Good book. Mitch is back in Red Valley after three years away. He's not really ready to return to his family's ranch, so when his truck breaks down in front of Annie's place he goes along with her assumption that he's a handyman. He's attracted to her, but with him hiding his identity from her he knows it's a bad idea to get involved. But his heart isn't getting the message.
I liked both Mitch and Annie. Annie got the farm in the divorce settlement with her ex-husband. She loves having a settled home for herself and her son after years of a vagabond existence. She is determined to make a success of her fledgling organic farm and is counting on Mitch's help for some of the physically intense repairs. Mitch's presence is a bit of a problem for her. She needs his help but the attraction she feels for him worries her. She knows he's hiding more than just his name but she doesn't seem to care. Besides doing everything she needs him to do on the farm, he's giving her son a male role model he really needs. I really loved her farming efforts and how she is so determined to make it succeed. I enjoyed seeing the things she did to improve the business. I also liked the way that she accepted Mitch's desire to stay away from people he might know but also realized that it may cause trouble in the long run. I loved seeing her stand up to the people who are trying to buy her land. When she finds out who Mitch is she is angry and also hurt because she feels like she's been used. I liked seeing her accept Mitch's help at the end and how it enabled her to really get to know him.
Mitch left his family's ranch three years earlier after his grandfather's death. Besides dealing with the loss of the man he felt really understood him, he was furious with his father's refusal to listen to any of his ideas for their ranch. Now he's back but he's still not ready to face his family. Being mistaken for Annie's handyman seems like the answer to a prayer. He doesn't expect the intense attraction to her or how much he enjoys being around her son. I liked Mitch. Other than his lie about who he was, he is a pretty awesome man. I loved seeing how patient he was with Austin and how much he enjoyed working with the boy. I also loved the way that he was so impressed with Annie's intent to make a go of her farm and how hard she was working at it. I liked the way that he refused to be the snake that his father suggested. Even though Mitch wasn't sure that Annie would succeed I loved the way that he wanted to help her make the best effort she could. I loved seeing him refuse to give up on Annie at the end and how he just kept coming back. It was great how his persistence paid off.
I admit that I was not impressed by Mitch's dad. I didn't like what he wanted Mitch to do and I didn't like the way that he refused to listen to Mitch. I sure hope he improves over the rest of the series. I did like his brothers and how they all supported each other. I'm looking forward to the rest of the series.