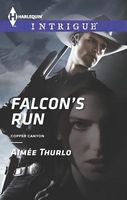 Series:
Copper Canyon
(Book 4)
Detective Preston Bowman had a Navajo gift for sensing danger. And the danger stalking Abby Langdon was undeniable. But nothing could force her off the Sitting Tall Ranch she'd built for disabled children -- not even her own near-death experience….

Alone on her isolated ranch, she had no one to trust -- no one but Preston. And as the risk intensified, so did her desire for the strong, silent lawman. But Preston was from a different world. Even if he could keep everyone on the ranch safe…she couldn't say the same for her heart.
Very good book. One of Abby's employees has been murdered and Abby herself was attacked. Preston is the detective who arrived in time to save her. Abby was very worried about the effect the murder would have on the ranch which she built to help disabled and at risk children. She immediately feels that she can trust Preston as he assures her that he won't give up until he's solved the murder. At the same time there is something about Abby that stays on Preston's mind.
I really liked both Abby and Preston. Abby has a great passion for the work she does with the children. She has made the ranch her whole life and the threat to it has her very worried. She really appreciates Preston's quiet confidence that he will find who is behind the murder. Abby trusts the people who work with her and can't believe one of them is behind the trouble. She is also a pretty optimistic person who tends to bring out the best in the people around her. I really enjoyed seeing the way that most people rallied around her to help keep the ranch going. She was also attracted to Preston. I really liked the way that she let him know how she felt but also that she didn't expect anything. I liked the way that she accepted Preston just the way he was and didn't try to change his attitude about her or anything they had together. I loved her independence and the way that she stayed involved in the investigation. I enjoyed her relationship with Bobby and the way that she understood Bobby's needs and fears.
Preston was an excellent detective. One of his abilities was to be able to focus on things that other people missed. He loved his work and devoted most of his time to it. He felt that because of the things he has seen and experienced that love is not in his future. He fears that the darkness he experiences would bleed over into any relationship. When he meets Abby he is struck by her beauty and also the lightness of her spirit. Although he always gives his cases his best effort he finds himself wanting to do even more for Abby. I loved his protectiveness and how he went the extra steps to help her, calling on his brothers' help in a way he usually doesn't with other cases. I also loved his way with Bobby and how he showed respect for the boy's abilities and desire to help. It was fun watching him fight his growing feelings for Abby, even as he tried to convince his brothers he was just doing his job. I loved the way that he shared things with her that he didn't talk about with anyone outside his family. I liked the way that he committed to both Abby and Bobby at the end, even though he never actually stated his love to her.
I liked the way that their love was a relatively slow development rather than an instant thing. It gave them a chance to actually get to know each other. It was also balanced well with the mystery of who was behind the murder. While I guessed part of it early on there was also a surprise element involved. As in the previous books I really liked the Native American information included. It felt like a natural part of the story not something that I was forced to read. I'm really looking forward to the stories for the last two brothers.