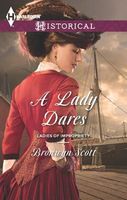 Series:
Ladies of Impropriety
(Book 2)
A LADY IN A GENTLEMAN'S WORLD

According to society, I, Elise Sutton, haven't been a lady for quite some time-a lady couldn't possibly run the family company and spend her days on London's crowded, tar-stained docks. And she most certainly wouldn't associate herself with the infamous Dorian Rowland-privateer, smuggler and the Scourge of Gibraltar himself

But I need Rowland and his specialized expertise-especially with the wolves circling, waiting for me to fail. I yearn to feel alive, and Rowland, who can kiss like the devil, inflames my senses and makes me dare to break free....
Pretty good book. Elise is trying to keep her father's shipyard going after his death. She has a half built yacht that she hopes will give it the boost she needs - if she can get a shipbuilder to finish it for her. She's having trouble getting anyone to work for her because she's a woman. When her brother introduces her to Dorian she's not impressed. She especially doesn't like the effect he has on her. But she soon realizes that he has what it takes to finish the ship. He also makes her want to forget society's rules and do things she wouldn't otherwise do.
Elise is very independent. She has been involved with the shipyard since she was a child and is fully qualified to run it. Unfortunately her investors don't agree and have pulled all support, leaving her struggling. Dorian's arrival is just what she needs to save the business. She is attracted to him from the beginning but also frustrated by his high handedness. She hates being banished from her office, where she has spent most of her time, but approves of the progress Dorian is making. One of the things I really liked is the way that, once they started talking, they respected each other's knowledge and opinions. They also started to develop a real friendship as they worked together. She also had to admit to herself that she was glad he was there as accidents and attacks started happening at the shipyard. I also enjoyed her reaction to his kisses. She admitted the attraction and made her own reasoned decision to pursue it even though she knew that he had no intention of staying in England. As the danger increased Elise got closer to Dorian and knew she would have to make a decision about her future. I loved the race and its aftermath.
Dorian was intrigued by Elise. He wasn't used to women who were so intelligent and independent. He took on Elise's job as a way to get the money to get back to Gibraltar. With his attraction to Elise he also thought about romancing her out of the boat he was building. He also found himself very protective of her from the beginning which was very unusual for him. Although he had been born a gentleman he has spent most of his adult life doing less savory activities and is not received by society. He really doesn't care. From the beginning he makes no secret of his attraction to Elise and seems to really enjoy stirring her up. He also takes advantage of her life on the edge of scandal to push her into fun but risky activities. When the problems start happening he figures out who is behind it pretty quickly, but it take awhile before they figure out why. I liked the way that his plan to simply seduce Elise starts to change as his feelings for her deepen. He doesn't feel that anything can come of it because of who he is and thinks that she'll feel the same when she finds out. I liked the fact that he did tell her about his past and enjoyed his surprise when she didn't condemn him. His increasing feelings for her made him think about changing his plans. He was really worried about her safety and tried everything he could to protect her. I really enjoyed the way they worked together to sail the ship and how it showed their connection. I really enjoyed the ending.