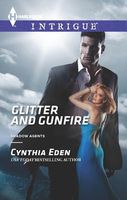 Series:
Shadow Agents
(Book 4)
Cale Lane had his orders: keep Cassidy Sherridan alive at all costs. But who sent six armed men storming the Rio ballroom to take her out? The gorgeous party girl wasn't giving it up. Now he had a more urgent mission: uncover Cassidy's secrets…one by one.

Cassidy didn't need the former Texas ranger to play hero and blow her cover. Using herself as bait was the first step in bringing a killer to justice. How could she do that with Cale shadowing her every move…and awakening feelings that tempted her to put her life -- and heart -- on the line?
Cale has been assigned to keep Cassidy safe. He has been given no other information about why he is babysitting this party girl. When armed men attempt to take her Cale steps in and keeps her out of their hands. Her actions make him think there's more to her than he had been led to believe. Meanwhile, Cassidy is furious with Cale since she had set herself up as bait so she could stop the man who has been kidnapping and killing her friends. Cale quickly realizes that Cassidy is determined to find and rescue her friend. He is impressed by her capabilities and disobeys orders to help her do so. He is also determined to discover just what it is she is hiding. He is stunned when he finds out what it is.
Cassidy has been protected all her life. She hasn't had many close friendships and those that she had are suddenly disappearing to death. She is determined to find out who is doing it and has set herself up as bait. I really liked her determination. She also had some pretty good skills that had come in handy over the past few years as she would elude her bodyguards. I loved the way that she was surprised by Cale's ability to anticipate her actions. One thing she hadn't expected was her attraction to Cale. I really liked the way that she refused to be separated from him for any reason. Her feelings for him grew rapidly. Even when others were telling her that he wasn't good for her she refused to accept it. I thought that her focus on her investigation made her take some unnecessary risks at times but it all certainly worked out.
Cale is new to the EOD team. He had been the focus of an attempted frame up in an earlier book. Now he puts everything he has into every mission. This one has him puzzled. He has been assigned to protect Cassidy but hasn't been told why or from what. I loved his reaction when she tried to chase him off. After the scene in the ballroom he realizes that she has secrets and he won't be satisfied until he knows what they are. I liked the way that he agreed with her that her friend had to be rescued and how he and the team disobeyed orders to get it done. The events after they returned to DC and he found out who she was just made him more determined to protect her. He was also fighting his growing feelings for her, feeling that with his past he was no good for her. He also quickly discovered that he didn't care about that, nothing was going to keep him from protecting her. It was very tricky trying to do so with the bad guys still after her and also some other manipulations coming from his boss. His part in the final confrontation was very intense and nerve-wracking. Loved the epilogue.
The suspense part of the book is very good as the attempts on Cassidy continued. The perpetrator was pretty well hidden for me until close to the end when I had my "aha!" moment. I found Mercer's actions at the end pretty interesting. I hope that Drew will get a story - he seems to be in need of the hassles the right woman can bring him.