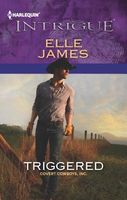 Series:
Covert Cowboys Inc
(Book 1)
To protect their future, a Texas bodyguard must revisit his past

After taking justice into his own hands, Austin police officer Ben Harding faces an unknown future. But a new job referral carries the possibility of salvation. His mission seems simple: protect a woman and her young daughter -- recent residents of the Flying K Ranch who have become the target of threats.

When Ben meets Kate Langsdon, he is immediately struck by her beauty…and by the memories of the tragedies that touched his own family. Resolved not to become emotionally invested, Ben protects the pair as new dangers -- and old ranch secrets -- emerge. As enemies draw closer, can Ben keep this family alive long enough to explore a future with Kate?
Excellent book with nearly constant action and suspense. Ben lost his job as a cop after killing a suspect. When he's offered a job with the new Covert Cowboys Inc., he accepts. His first job is to protect Kate and her daughter Lily. Kate inherited the ranch from her father, who she had never known. Someone is trying to drive her away with threats and attacks and it's Ben's job to keep them safe. Ben is fighting the memories of his murdered wife and daughter as well as his attraction to Kate.
Kate had never known her father and was stunned to find out she had been left his ranch when he died. Shortly after inheriting her home in Houston was broken into and ransacked. No longer feeling safe there, she packed up her daughter Lily and moved to the ranch, only to find the danger there was even worse. After contacting a friend of her father's he sends Ben to protect her. He arrives just in time to save her from another attack. She is immediately attracted to him, something that hasn't happened to her since the death of her husband four years earlier. Ben has made it clear that he is there for protection and will leave as soon as the job is done. She sees the anguish in his eyes when he looks at Lily but also the gentleness and care that he treats her with. She is afraid of falling for him and the suffering that will follow for her and Lily, but she can't stop her feelings. One of the things I really liked about Kate was her determination to make the ranch her home. She was afraid for herself and Lily but she wasn't going to run away. I loved seeing her stand up to the sheriff and the others who threatened her.
Ben lost his job as a cop when he killed a suspect who had been trafficking and abusing girls. The boss at Covert Cowboys Inc. hired him because of his abilities. Ben's first assignment was to protect Kate an Lily. At first he tried to get out of it because of the memories being around them brought back. His wife and daughter were killed by a criminal that Ben had caught but who had been released on a technicality. He was also attracted to Kate which opened up a whole new set of guilty feelings. I really loved seeing Ben with Lily. In spite of his sadness there was something about her that he just couldn't resist. Seeing him read her a story or brush her hair was so sweet. It didn't take long before Ben no longer wished to get out of his assignment. He was fully invested in keeping Kate and Lily safe. I liked the way that he was able to make connections between what was happening on the ranch to what had been happening with his case in Austin. It made him even more determined to get to whoever was behind the troubles on the ranch. Ben continued to try to fight his feelings for Kate but he wasn't succeeding. It took nearly losing her for him to realize he was ready to start living again.