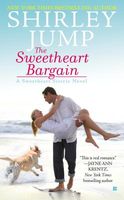 Series:
Sweetheart Sisters
(Book 1)
"You can't teach an old dog new tricks--unless you're a Sweetheart Sister... "
The Sweetheart Sisters, a trio of sassy, well-meaning grannies (who aren't against a sip of bourbon with breakfast) are ready to dispense advice and help create happy endings with a little of what they do best--meddling.

Animal therapist Olivia Linscott is the Sweetheart Sisters' first target. Running from a bad marriage and a lousy job, Olivia is determined to save the dog shelter she inherited from the mother she never knew and, above all, to protect her broken heart. The Sisters want to tie the spirited young do-gooder to wounded helicopter pilot Luke Winslow, but the intended pair keeps slipping the leash.

Luke's dreams were shattered by a career-ending eye injury. Adrift and bitter, the last thing he wants is romantic involvement. But when a golden retriever in worse shape than he is scratches on the door, the dog brings in a whole lot more than puppy love...
Very good book. Olivia has come to Rescue Bay to start a new life. She is recovering from her divorce and has inherited a house from the mother she never knew. She's determined to fix it up and reopen the dog shelter her mom ran. Next door is Luke, who is mourning the loss of his best friend and the end of his own dreams. Neither one is interested in a relationship but the attraction between them is hard to resist. Add in a meddling, matchmaking grandmother and a dog in need of love and who knows what will happen.
Olivia had a happy childhood with her adoptive parents but she always felt that there was something missing. She wondered about her birth mother and why she gave Olivia up. After her divorce from her cheating ex-husband her life in Boston was difficult. When she was left a house in Florida by her birth mother she decided to pack everything up and move to Rescue Bay. The house wasn't what she expected, being in dire need of fixing up, but she was going to give it a shot. She got a job at the local retirement home as an animal assisted therapist where she and her little dog quickly made friends with the residents. An injured dog led her to her next door neighbor, injured pilot Luke, who was gorgeous and grumpy. She wasn't interested in getting involved with him, preferring to protect her heart from further pain, but the attraction was very intense. Getting the dog treated also led her to the half sister she didn't know she had and the opportunity to learn more about her mother. I loved the way that Olivia tried to keep a positive attitude about things. Her house was a mess but she was determined to get it fixed up. She loved her work as a therapist and was great with the people she treated. Her empathy as a therapist shows her that Luke is hurting but she doesn't know if she can help him or even if she should try. She keeps reaching out to him with the help of the injured dog. Sometimes things go well and she feels like they're getting closer and then he will pull back and say hurtful things. She also wants to get to know her sister but even that has its problems. Diana had known nothing about Olivia either and is dealing with her own unresolved mother issues making it difficult for her to open up to Olivia. I really loved the way that Olivia really tried so hard to keep herself optimistic. It was so hard to see her start to lose hope and nearly give it all up. Loved the emotional scene at the cemetery with her sister and the difference it made to their relationship.
Luke was a mess. The accident that had killed his best friend also caused an injury to his eyes that ended his career as a helicopter pilot. All he had ever wanted to do was fly and he is drifting now with no idea what to do. Add in that his eyes are still recovering and he has trouble seeing and he is impossible to be around. He also blames himself for his friend's death and the guilt is eating him up. Olivia's appearance in his life as she tries to find the injured dog is not something he wants. He's attracted to her but feels that he is not worthy of being happy. No matter what he does he can't seem to keep Olivia away. The injured dog is found and treated, and takes a liking to Luke. Chance is constantly finding his way over to Luke's house where he shows his own kind of love and healing. I loved the way the nice guy that is still inside Luke keeps coming out. In spite of his moods he is always nice to his grandmother no matter how much of a pain she is to him with her interference and matchmaking. He is also great with Chance and finds himself enjoying the dog's company especially when he is feeling down. He also can't seem to stay away from Olivia. He enjoys her company and the attraction is intense. Things will be going great between them and something will set off his guilt and he pulls away and chases her off. He sees what he is doing but can't seem to stop it. I loved the way that it was the dog who helped Luke finally make the push to move on.
The secondary characters were great additions to the story. Luke's grandmother and her two friends were fun to watch as they set their hands to getting Luke and Olivia together. The main culprit is Luke's grandmother. She is so sure that she is right that she goes all out to get them together. She isn't subtle about it though she likes to think she is. All she wants if for Luke to be happy again and she is sure she has the solution. I also liked getting to know Olivia's sister Diana and her son. Diana's reactions to the will and the sister she didn't know about seemed very real and logical to me. Their developing friendship was realistic. I also liked seeing the issues that Diana was having with her son. Her struggles with him are hard for her. I liked her obvious love and frustration with the situation and her relief when Olivia helps her with a solution. Luke's friend Mike shows up in time to give Luke some of the hard truths he needs to face. But he is also the kind of support that Luke needs around to get him out of his depression. I loved his interest in Diana and I'm looking forward to their story.