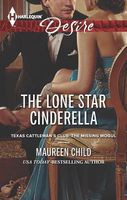 Series:
Texas Cattleman's Club: The Missing Mogul
(Book 4)
Dave Firestone has no intention of getting married, but he'll pretend anything if it means sealing a tough business deal for his ranch. Needing a spur-of-the-moment fake fiancée, he turns to housekeeper Mia Hughes. With her boss -- and Dave's business rival -- missing and her paycheck on hold, she accepts Dave's fantasy proposal. But when their pretend romance takes an unexpected turn into passionate nights, Dave isn't ready to let Mia go. Can the smooth-talking businessman negotiate a more permanent arrangement?
Very good book. With Alex missing and his bank accounts frozen, housekeeper Mia is no longer getting paid to do her job. She's been using her own savings to pay the bills but now that's gone and her tuition is due. When Dave comes to her with a business proposition she takes him up on it. The rules are simple - no emotional entanglements and kisses are just for show. Dave just needs the appearance of a stable relationship to close a deal and figures Mia is perfect for the job. He doesn't expect to want it to continue.
Mia was great. She'd had a very unconventional childhood. Her mom died when she was young, so she was raised by her father - a professional gambler. They were constantly on the move, following the tournaments. She loved her father but she longed for an actual home, the chance to make and keep friends, to have roots. Now that she's an adult she's working her way toward that life. Though the house isn't hers, she has a place to stay and is almost done getting her degree in childhood counseling. She's made some great friends and has a terrific boss. She's worried about Alex who has been missing for several months. She's also worried for herself because she's no longer getting paid. She is surprised when Alex's business rival comes to her with a proposition. He needs a fake fiancee in order to close a business deal and he's willing to make it worth her while. He'll pay her $10,000, buy her the clothes she needs to pull it off, and pay off her student loans. All he needs is a month of her time. He warns her that it's just for show. He doesn't do commitments or relationships. She worries that she's getting in over her head but she says yes. It isn't long before that little spark of attraction she felt for him has built into a bonfire and they've started giving in to it. Mia has found that there is a lot more to Dave than the ruthless businessman she's heard so much about. Once living with him on his ranch she sees his connection to his land and finds that they have a lot in common. She's falling hard for him but he is still insisting that love doesn't exist. He wants to continue as they are, but Mia won't settle for less than everything. Mia is very independent and is determined to stand on her own. I liked the way that she considered all the points of Dave's proposal before she accepted. I really enjoyed seeing her settle in at Dave's house and how right it felt to her. She knew that it was a bad sign as far as her emotions went. She felt really guilty when Dave's mom showed up and started going on about wedding plans and so on. I loved the way that she stood up for her own needs at the end.
Dave is a self-made millionaire. His father had walked out on him and his mom when he was ten, causing them to lose their ranch. That and his mother's heartbreak made Dave into a man who doesn't believe in love. He sees it as something that doesn't last, unlike contracts which are promises that are designed to be kept. So when he needs the appearance of a fiancee in order to close a business deal, he offers Mia a contract she can't refuse. He figures that the attraction he feels for her is a bonus, especially if he can talk her into his bed. He expects that attraction to burn itself out pretty quickly and is surprised when it only gets stronger. He also finds that he likes having her in his home and looks forward to seeing her in the evenings. She is also constantly on his mind which begins to worry him as it's never happened to him before. He is still trying to convince himself that it's only desire when he asks Mia to make it permanent but still insists there's no such thing as love. He's stunned when she turns him down and leaves and spends several days wondering why he feels so bad. I loved the way it's his mom that sets him straight. By the way, there is a terrific scene when he gets quite a surprise when he walks into his mom's house. It had me laughing out loud at his reactions.
The two mysteries are still ongoing. There is nothing new on Alex's disappearance, though the state investigator is still in town and talking to people. The vandalism at the new child care center from the last book hasn't been solved, and an even worse incident takes place. People are furious and have suspicions about who is behind it, but no proof. I still think I know who, but will have to wait to find out.