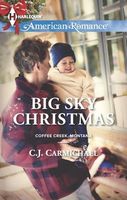 Series:
Coffee Creek Montana
(Book 4)
A Holiday For Healing
Jackson Stone will always be grateful to the Lamberts, who took him in when he was just a kid. But since the accident that killed his foster brother, Brock, he stays away from the family at Coffee Creek Ranch. Especially now that Brock's former fiancee, Winnie Hays, is back in town with her little boy.
The simmering attraction between them may surprise Winnie, but Jackson fell for her at first sight years ago. Loyalty and guilt require he keep his distance...even as their feelings blossom into love. In the end, it's his own conscience Jackson must master. But with the help of the Lamberts, can this Christmas be a time of healing and a new beginning?
Very good book with some intense emotional issues. Winnie has finally come back to Coffee Creek after the death of her fiance on their wedding day and the later birth of their son. She arrives on the day of a family wedding and is having a hard time dealing with the memories and emotions. Jackson helps her through it with his humor and understanding. Jackson knows he should stay away from Winnie. He's been in love with her for years but the guilt he feels over Brock's death is nearly overwhelming.
I loved Winnie and Jackson. Now that she is back in Coffee Creek she feels it's time to get on with her life. She is trying to maintain her independence despite the efforts of her late fiance's mother. Jackson has been a big help with that. Being around him stirs up feelings she didn't expect to have. At first she felt guilty about being attracted to another man, especially Brock's foster brother. It really didn't take her long to realize that she deserves a chance to be happy. I really liked seeing her open up herself to the possibilities with Jackson. I also liked the way that she worked so hard, right from the beginning, to let Jackson know that he has no reason to feel guilty over Brock's death. As their love grows she is willing to look at the future but she has to feel that Jackson is able to give his whole heart.
Jackson came to Coffee Creek Ranch as a foster brother to the others. He felt welcomed and accepted by everyone except Olive who always treated him differently. Brock had been his best friend. Jackson still feels guilty over Brock's death, thinking that he should have been able to avoid the moose that they hit. Now that Winnie is back he is suffering even more. Not just about the accident but also the fact that he has been in love with her for years. His guilt tells him to avoid her but his heart won't let him stay away. I loved the way that he came to her rescue when Olive tried to guilt her into moving onto the ranch. I really enjoyed the way that Jackson gave in to his heart and started spending time with Winnie and her son. He still had issues with his guilt causing him to not open up completely to the idea of a happy future with Winnie. He really panics when Winnie's son calls him daddy. I also liked the care he was taking of Maddie. It really showed what a caring man he can be. It was great to see the way that the other Lambert kids helped Jackson deal with his guilt. There was also a surprising twist at the end about why Maddie plans to leave her ranch to Jackson and also the identity of Jackson's father.
There is also more about the feud between Maddie and Olive. I enjoyed seeing the efforts that everyone made to get it resolved. Olive became a more sympathetic character by the end of the book.