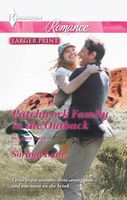 Series:
Bellaroo Creek
(Book 3)
The final piece of his family puzzle?

Arriving in Bellaroo Creek, teacher Poppy Carter isn't quite prepared for the hard task ahead of her. But a school under threat and a class of unruly children is a breeze compared to single father Harrison Black, who's proving more of a challenge than she could ever have anticipated!

Since his wife abandoned him and their children, Harrison has learned the art of keeping his distance -- and new teacher Poppy doesn't seem to understand boundaries! But when a storm traps them both together, Harrison begins to wonder whether Poppy just might make the perfect addition to their little family….
Very good book. Poppy has left everything she knows behind to come teach at a one room school in rural Australia. It's a whole different life but one she's ready to embrace. Her initial meeting with Harrison, the single father of two of her students, didn't go so well. He accused her of not being the type of person who could stick it out in such a remote place. He is still bitter about the way that his wife deserted him and their children and doesn't trust any women. There is an attraction between them but neither one feels ready to jump back into the relationship pool.
I really liked Poppy. She had lost everything - her marriage to a cheating husband, her home and savings to his gambling, and a much wanted baby to miscarriage. She was determined to make a fresh start and felt that she could make the biggest difference at Bellaroo Creek. I loved her optimistic outlook, which was obvious from the beginning as she got her classroom ready for the first day of school. Harrison's judgmental attitude toward her infuriated her. I loved the way that she told him off. I also enjoyed her immediate connection with his two kids. Her attraction to him worried her, especially when she found out he was single - she didn't trust her judgment of men any longer. She couldn't resist helping him when he had an emergency and found herself daydreaming of a future with him and his kids. There was so much about him that she came to care about. She was frustrated by his hot and cold attitude and the way that he kept judging her by his ex-wife's actions.
Harrison was a little harder to like at first. The way he just assumed that Poppy wouldn't stay was one of those things that was sure to make her mad. I liked the fact that he knew he'd been rude and that he should apologize but not that he still didn't change his mind about her. I loved his relationship with his kids and how much they obviously loved each other. Harrison was really fighting his attraction to Poppy but couldn't fight his need to be around her. Things would appear to be going well between them and then he would go back into his old habit of judging and drive her away. I loved it when she finally had enough and told him "You have to stop looking at everyone like a potential threat. Be careful, Harrison, but don't isolate your family so much that you find yourself completely alone. Because by then it will be too late."