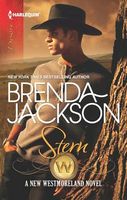 Series:
Westmorelands
(Book 27)
Stern Westmoreland never makes mistakes -- until he helps his best friend Jovonnie "JoJo" Jones with a makeover…for another man. Now Stern wants JoJo for himself. Their attraction is undeniable and there's only one way to test it: one long, steamy night together as much more than friends!
Very good friends to lovers story. Stern and JoJo have been friends since they were kids. They hang out together a lot, including going up to his hunting lodge. They can talk to each other about almost anything. Lately JoJo has realized that she's tired of being friends with all the guys and wants some romance. Being a tomboy who is great at karate, hunting and as a mechanic, she lost when it comes to feminine pursuits. So she goes to her best friend Stern, a definite ladies man, for advice on what to do.
I loved both JoJo and Stern. JoJo is an independent woman who knows what she likes and is capable of. She and Stern have been friends for a long time, but recently she has noticed that her feelings for him are changing. She doesn't want to lose his friendship by putting the moves on him so she decides to try to fall for another man instead. But she has no idea how to go about it, so she asks his advice. She talks him into giving her kissing lessons which sets off even more fireworks. I loved her absolute trust in Stern and his actions. She had no idea what she was doing to him. Having been friends with Stern for so long she's also friends with the rest of the family, so has a great time when the ladies help her with her makeover. I thought she was a little naive going to that bar chasing after the guy with "possibilities". I loved the way that Stern was there but didn't interfere when she asked him not to. That's when she finally admitted to herself that there was no way another man would be able to replace what she felt for Stern, and decided that she would go after what she had wanted in the first place. I really liked the deepening of the relationship even though she still avoided telling Stern her true feelings. I completely loved the scene at the garage at the end, though I did see it coming.
Stern was great. He's a bit of a ladies man since he has no plans to settle down until he's thirty-five. But he's seeing more of his family members falling to the love bug and wonders if he should be looking too. I love his friendship with JoJo and the way he doesn't get mad when she beats him out at one of their activities. He is taken by surprise when she asks him what she should do to attract a man. He's her friend so he answers and offers to help, but finds that he's not really happy with the idea of another man being with her. When she asks him to kiss her and teach her how it's done he is stunned by the strength of the desire he suddenly feels for her. It really freaks him out because he's never thought of her as anything other than a friend. Now he can't get her out of his mind or his dreams. He resists as hard as he can. I loved the way that he keeps going to other guys in the family for advice and they all look at him like he's nuts and tell him that he's in love with her. It takes awhile for him to admit to himself that they are right, and then he has to decide what to do about it. I loved the scene at the bar when he made sure he was there as backup but let her deal with things herself. He accepted her request for "friends with benefits" but knew he wanted more. He just didn't know how to tell her. I loved the ending.