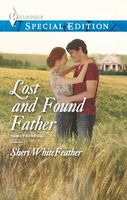 Series:
Family Renewal
(Book 1)
Reuniting with her daughter was a dream come true for Victoria Allen, but when Kaley wanted to meet her father -- well, all bets were off. She would not, could not, allow the older and undoubtedly sexier Ryan to get under her skin. But how could she deny their child a chance to know the man who'd once captured her own heart?

When Ryan Nash opened the door to find his first love -- and their child! -- on his doorstep, he was surprised to find his feelings for Victoria were stronger than ever. He now had the chance of a lifetime to right the wrongs of the past. And maybe, in the process, build a family for the future….
Good book. Victoria and Ryan had been high school sweethearts. When she got pregnant they were too young to keep the baby so she gave her up for adoption. Eighteen years later Kaley has come looking for Victoria and Ryan. Both of them are enjoying getting to know Kaley but it's the sparks between them that worry her. She never recovered from her broken heart and she doesn't want to risk it again. Meanwhile Ryan would like to explore the idea of building a new relationship with her.
Victoria was thrilled when she and Kaley reunited. She had always wondered what had happened to her. When Kaley wanted to meet Ryan, Victoria couldn't say no. She had never forgotten how much she had loved Ryan, or the way he had let her down when she needed him the most. Now she and Kaley are back in her hometown and staying at Ryan's home. The attraction is still there but she doesn't trust that Ryan has changed enough for her to trust him with her heart. I understood that Victoria was still hurt over Ryan's actions when they were younger but I felt like she held onto those feelings for far too long. Even though he explained what had happened to Victoria and Kaley she didn't want to admit that he had grown up. Even when she gave in to the attraction between them she tried to deny the love that she still felt for him. I wanted to shake her when Ryan confessed his love and she wouldn't believe him.
Ryan had always felt guilty about not showing up as he had promised to do on the day that Kaley was born. Those feelings stayed with him even after he married another woman. His reluctance to have children with her was a direct result of those feelings and led to their divorce. He was very nervous when Victoria and Kaley arrived. He was happy to have the chance to get to know Kaley and even happier to spend time with Victoria. The strength of his feelings surprised him. I really liked seeing him get to know Kaley and seeing how much they liked each other. I loved the way he was honest with her about his actions and feelings in the past and how much he wanted to be part of her life now. I liked the way that he wanted to renew a relationship with Victoria. I really enjoyed seeing the ways that he tried to get closer to her. I found them to be very sweet. I found it interesting that he hadn't realized that his feelings back then were love and that it took a bout of jealousy to make him realize that he still loved her.