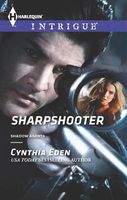 Series:
Shadow Agents
(Book 3)
Two years ago Gunner Ortez saved Sydney Sloan's life on a mission gone wrong. And ever since then, he's been watching her back. Now a hostage-rescue mission is about to blow the Elite Ops agents' lives apart once again.

Working side by side back in the jungles of Peru, the heat between Sydney and Gunner is hotter than ever -- and so are the threats to their lives. With the danger escalating, Sydney knows Gunner is her only hope at successfully completing their assignment. But the ex-SEAL who arouses passion she'd only dreamed about also poses the greatest risk to the secret she carries in her heart…and in her belly.
Wow. Intense emotion and action throughout the book. It starts with a rescue op in Peru that goes terribly wrong. The man they were to rescue was Gunner's half brother and Sydney's fiance. They end up in a firefight where Slade is killed and they have to leave his body behind. Fast forward two years. Gunner and Sydney are still on the same EOD team. They have a great friendship there, but Sydney is emotionally ready to move on from being Slade's fiance. She wants to move on with Gunner, but he rejects her advances because he is so full of guilt. He loves Sydney and has since before Slade's death. When she starts looking at another man his jealousy gets the better of him and they finally get together. Then they get called for another hostage rescue and find two hostages instead of one. The second one is a surprise. The rescue has its problems and they all barely make it out alive. Back in the US Gunner and Sydney find themselves under attack. Someone is trying to kill Sydney and make it look like Gunner is guilty.
I loved both Sydney and Gunner. Sydney is a real kick butt kind of heroine. She is as capable an agent as any of the men. I loved the way that she knew what she wanted and went after it. Once they were back in the US her life was in danger and it made her mad. I loved how she insisted on being involved in the investigation. Even as more evidence pointed toward Gunner she knew he wasn't guilty. I loved that complete faith and trust that she had in him. Gunner was one of those heroes who seemed to have everything against him. He's always been the gruff type, not a smooth talker. He's scarred, big and intimidating. And he's been in love with Sydney for a long time. He was also honorable and made sure that she never knew it. His guilt was eating him up after Slade's death and he fought Sydney's advances as long as he could. When the attacks began he was determined to protect her and do anything to find out who was behind it.
One of the things I love most about the Shadow Agents is their absolute trust in each other. No matter what they are doing they know that they are covered. When the attacks looked like an inside job and Gunner's fault, Sydney was absolutely sure he was being set up. The final confrontation was excellent and definitely edge-of-the-seat exciting for me. Another plus in the book was the occasional look into the killer's point of view. His identity was hinted at in the first half and revealed early in the second half, but the how's and why's made the story even better.