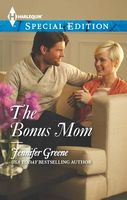 Series:
MacKinnon
(Book 3)
They're two strangers…

When widower Whit Cochran meets runaway bride Rosemary MacKinnon, something magical happens. Whit and his twin daughters rented a cabin for Christmas on Rosemary's Whisper Mountain, and the girls think it's only right their single dad and the pretty bachelorette spend the holiday together….

…who are a perfect match

Out there in the forest, loneliness turns to love. Rosemary falls for the girls -- and their frazzled dad -- yet she knows she'll never replace their late wife and mother. But Whit isn't leaving without the woman who's given him back hope. With Christmas approaching, he has only days to prove that together they make a forever family.
Fun book. Rosemary is hiding out at her family's lodge on Whisper Mountain. She is a botanist working on research about orchids which gives her a great excuse to be there. Six months ago she called off her wedding and refused to tell anyone why. As a result she's getting pressure from various family members who want her to "work it out". It has left her with doubts about her judgment when it comes to men. When she meets Whit and his eleven years old daughters she falls for them all. She hadn't realized how lonely she had been until they burst into her life. She was determined to help them through this Christmas as they dealt with the loss of wife and mother. I loved the immediate connection she had with both girls. She was able to tell the differences between them right away and was able to relate to each as they needed. I especially liked the way she dealt with them as more information came out about their relationship with their late mother. She had been immediately attracted to Whit but expects only to be friends as she feels he is still grieving deeply for his wife. She is determined to help them have a good Christmas and comes up with lots of activities. I loved the fun filled friendship that developed between them and how it so quickly deepened to love. Her confidence levels were so low that she didn't realize that Whit had come to care for her too. I loved the way that she was able to open up to Whit about her ex (ewwww!!) and how big a difference it made to her. The scene at the lodge on Christmas Day was great and the perfect ending for the book.
Whit wanted to get the girls away from the sad memories over the holidays. I loved the way that he was such a great father to them. His love for them was so obvious and so deep. He was also somewhat out of his depth when dealing with them now that they are getting older. When he met Rosemary he felt an immediate attraction to her, but was trying to concentrate on the girls. His marriage had not been the best as his wife had been a selfish materialistic woman. They had stayed married for the girls' sake and he was dealing with some guilty feelings over his relief that he was no longer married to her. She had also done a lot of damage to his confidence with the way that he could never do anything right in her eyes. I really enjoyed seeing him with the girls in all their various attitudes. I loved the teasing and the hugs. I also really had fun watching him try to deal with some of the things like the shopping trip. His panicked call to Rosemary was priceless. The way that his feelings for her developed so quickly really surprised him but he wasn't afraid to pursue it. It went a little better once he was able to convince her he wasn't mired in grief for his wife. I loved his interactions with her family on Christmas Day. The only thing that could have improved the book would be an epilogue. I'd like to see how things were a year or two later.