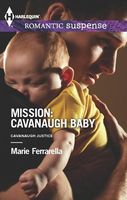 Series:
Cavanaugh Justice
(Book 25)
The only things Ashley St. James has ever allowed herself to love are her dogs. A child of the foster-care system, she never even knew her own birthday. When a dog in distress leads her to a brutally butchered woman whose baby was stolen, Ashley has a purpose -- so she teams up with cop Shane Cavanaugh.

Losing his fiancée only ripened Shane's thirst for justice. But the closer he gets to Ashley, the more he wants to erase the tears she hasn't managed to dry. If they can find the missing baby and nab a psychotic killer first...
Very good book. Ashley works in the animal control section of the Aurora Police Department. When she's called to the location of a dog in distress she finds a woman brutally murdered and her baby stolen. Shane Cavanaugh is the officer who responds to her call. Because of her past as a foster child Ashley prefers the company of animals to humans - as she says "Animals don't lie". She is pretty blunt with Shane about her opinions of people. He finds her views on animals and their abilities and "emotions" pretty odd at first, but starts to come around as he's around her more. Ashley gets assigned as his partner in the investigation since the homicide division is a little shorthanded. This is Shane's first murder investigation and he and Ashley end up being an excellent fit in their investigative styles. Because of her time as a foster child Ashley is good at reading people and able to use what she knows to get them to cooperate with her and Shane. She also thinks of things he doesn't because of their different backgrounds. I loved the way that she started to get more comfortable with him, to the point of telling him some of the things about her past. She also started to dream a little about what a life with him would be like but with no expectation that anything would be possible "Because good things don't happen to me." I really loved her reactions to meeting various members of the Cavanaugh family, especially at Andrew's house. Her decision about the missing baby at the end was not a surprise.
Shane has been working a lot as he recovers from his broken engagement. His fiancee decided she didn't want to be married to a cop who might get hurt or killed. Shane has decided that he wasn't going to get involved with another woman for a long time to come. When he got called as backup for Ashley's call he wasn't impressed with her at first. He especially mocked her "woo-woo" attitude about dogs and their intelligence and emotions. But there was something about her attitude that also intrigued him. When she came up with a good idea for the investigation he ended up with her going along with him. As the investigation continued they worked together to try to find the murderer and missing baby. I loved the way that her presence grew on him and how he wanted to know more about her. The things that he learned were so far outside his experience that he didn't always know what to say, but he was good at silent support. I loved what he did when he found out about her lack of a birthday. It really showed what a good heart he had and how much he was beginning to care for her. I also liked the way that he was finally getting used to being part of the Cavanaugh family and how he went to Andrew for help. I really liked the ending to the story. Shane wasn't particularly smooth but he got through to her.