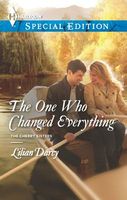 Series:
Cherry Sisters
(Book 1)
Daisy Cherry hasn't seen rugged landscaper Tucker Reid for ten years. Not since the wedding between him and her sister had been called off, just before the big day!

Now she's hired a landscaper to fix the grounds of her parents' Adirondack resort, Spruce Bay. Yes, it's Tucker -- he's the best man for the job. Surely that's okay after all this time?

Er…no. Her parents go mad. Her big sister disapproves. And her younger sister, Tucker's ex, doesn't know -- yet. And none of them know that the instant, wild, intense attraction between Daisy and Tucker has bubbled into a secret affair. That would be explosive. Dynamite. But when it's this good with Tucker, isn't it worth the family fallout…?
Good book. Daisy is back home at Spruce Bay after ending her relationship in California. Her parents are retiring and she and her sisters will be running her parents' resort. It is in need of refurbishing, including the grounds, and the best person for that is Tucker Reid. Tucker had been engaged to her middle sister until they called it off right before the wedding. She figures there's been enough time go by that it won't be a problem. But her oldest sister and parents aren't happy about it and let her know it. But Daisy still wants Tucker to do the job, plus she has had an instant attraction to him. She wants to pursue it, he's reluctant at first. Can they get past their individual issues to have a future together?
I liked Daisy. She knows that enough time has passed that there's no reason not to have Tucker do their landscaping - after all, he's the best. She doesn't expect the intense attraction she feels for him. She's cautious about getting involved with him. Her relationship in California had started with intensity, but after getting more involved she realized that his romantic exterior hid a rotten core. Now she doesn't trust her feelings completely and worries that she's falling too hard and too fast. I really liked the way that Daisy didn't let Tucker's past with the family stop her from hiring Tucker. I loved the way that they worked together so well. Daisy also did a great job of getting Tucker to open up about his past and the issues with his father. She soon saw that those issues were at the root of some of the problems they were having. She also realized that her own issues were causing her to judge Tucker by unfairly comparing him to her ex.
Tucker was a conflicted man. He had broken off his engagement to Daisy's sister all those years ago when he realized that what he felt for her wasn't love but a deep friendship. This was brought home to him when he met Daisy and was attracted to her. He was horrified with himself and saw his actions as like those of his father. Ten years later he finds that he's still attracted to Daisy. He has a reason he can't pursue that attraction at first and I love the sense of honor that he shows. Once he's free to do so things move fast. He is so into her that many other things start to mean less. When he has a confrontation with Daisy's older sister he once again sees his father in his own actions. It makes him feel that he doesn't deserve a chance at happiness. It takes some straight talk from Daisy to get him to see why he does what he does. I enjoyed the ending.