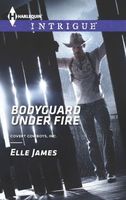 Series:
Covert Cowboys Inc.
(Book 3)
In a small town in Texas, everyone has a secret. Especially Chuck Bolton. Formerly a Special Forces soldier, Chuck now poses as a ranch handyman. His real mission? To protect his ex-fiancée, and the baby girl he never knew they'd created, from a malevolent masked man.

Who is behind the attack -- and what could they possibly want with Peggy Jane ("PJ") Franks? While the answer remains unclear, one thing is certain: Chuck never stopped loving PJ after she left him. And PJ, afraid of falling for the same man who broke her heart, doesn't want to repeat history. But that's the least of her worries when her enemy's motive is finally revealed.
I really didn't think it was possible for the series to get even better, but I was wrong. I was on the edge of my seat during almost every page. Chuck's first assignment for CCI is to protect PJ and her daughter from the man stalking them. At the time he didn't know that Charlie was his. He was stunned to learn of it and determined that both of them would be safe. PJ had broken things off with Chuck before she knew for sure that she was pregnant and had never told him. Now that he's back she won't keep them apart but she isn't sure she wants to risk her heart. She also doesn't know his real mission at first but does know that she feels safe when he's with her.
PJ had been in love with Chuck, but broke things off with him when he chose to leave her behind to go to war. Having lost everyone else she loved she wasn't willing to take that chance with him. When she discovered she was pregnant she chose not to tell him rather than risk him being distracted by the news. She didn't intend to keep it from him forever. She didn't expect him to show up in Wild Oak Canyon a couple months early and not right across the hall from her. She was glad of his presence when he saved her from an attacker. I did like the way that she didn't deny that Charlie was his and made sure that he knew that his participation in Charlie's life was welcome. She discovered very quickly that her feelings for Chuck had not gone away but she was still intent on protecting her heart. As the attacks escalated Chuck made the decision that he and his boss had to let PJ know what was going on and why. She was furious at the deception but came to accept that she needed the protection. I loved her independence and determination to make a better life for Charlie than she had had. I also liked the way that she held her own against Chuck and made him think about his own family issues. The intensity of the final chapters really had my heart racing, especially when it came to the discovery of her parentage.
Chuck had never stopped loving PJ and when he returned to the US in need of a job he went back to Wild Oak Canyon. When Hank asked him to join CCI and protect one of his employees he said yes, not knowing it was going to be PJ and Charlie. I loved the way he burst onto the scene to save her from her attacker before he knew it was her. His initial anger at PJ's deception ended pretty quickly once he held Charlie. It only reinforced his need to keep them safe. I loved the way that he became uncomfortable with the deception and insisted that Hank tell her the truth. He had never gotten over his love for her and was trying to find a way to show her that he still cared and wanted them to be together. I loved all the instances of him being a daddy, from falling asleep with her on his chest to his first time trying to diaper her. Those all went a long way toward softening PJ's feelings for him. I liked the insight we got into his problems with his own family and the way that becoming a father started to get him thinking about changing things. The conclusion was great.
The escalating attacks really kept my attention, especially since each one was different. Chuck and Hank really had their work cut out for them trying to figure out who was doing them. I figured out pretty quickly who the older Hispanic guy was, but not what his role would ultimately be. There wasn't really anything in this book about who was behind the troubles in the first two books, especially within the FBI. Hopefully we'll get more about that in the next book.