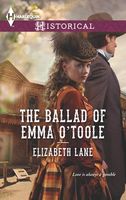 High stakes marriage

After shooting a man, the stakes for gambler Logan Devereaux have never been higher. On trial for his life, he's offered a shocking alternate form of restitution...marriage to his victim's pregnant sweetheart

Beautiful Emma O'Toole has sworn vengeance against him-and when a newspaper man puts her tragic story to song, the whole nation waits to see what she'll do. Their marriage is the riskiest gamble Logan's ever taken. But he'll put everything he's got on the line for a chance at winning Emma's heart.
Good book. Emma is pregnant and her fiance is desperate to get the money to care for her. His silver claim makes very little so he goes off to try to gamble for it. He makes a clumsy attempt at cheating and ends up shot and killed by Logan who was trying to protect another card player. Accused of murder Logan is given the chance to make restitution by marrying Emma and caring for her and her baby. Emma feels she has no choice since she hasn't any way to support herself but she vows to get her revenge on Logan. But he isn't like anyone she's ever known before. Soon their mutual attraction has them closer than they thought possible, but there are still secrets between them that could ruin the possibility of a future between them.
I liked both Emma and Logan. Emma had had a rough life so far but things were looking up. She was engaged to a boy she loved and they were expecting. She had a decent job and Billy had his silver claim. Then her world fell apart as Billy tried gambling for extra money and got shot when he was caught cheating. Emma lost her job and was living in the claim shack when Billy's killer went to trial. Expecting and hoping that the man would hang she was stunned when the judge suggested that she marry the man instead so that he can support her and her child. She doesn't see how to avoid it, but swears she will have her revenge. Her attraction to Logan is unexpected and unwelcome but also irresistible. When Logan's latest winnings include a mine she becomes a mine owner's wife. I liked the way that she used the knowledge she had gained working for miners to help Logan get the mine up and running. This gave them something in common and opened the door to stronger feelings. She still felt guilty about not taking her revenge. When she had an idea about using the newspaper to fight for workers' rights she gets taken advantage of by an unscrupulous reporter. This puts her in danger. I liked the way that her feelings about her quest for revenge changed and how she ended up wanting a new life with her husband.
Logan has been running for seven years, gambling as a way to support himself and keep moving. He had been accused of murder back home in New Orleans while avenging the death of his younger sister. He hadn't intended to kill Billy, but his shot nicked an artery and Billy bled to death. When offered the chance to marry Emma and take care of her rather than go to prison, he took it. He fully expected her to do something to take her revenge, but he was willing to take the chance. He had never expected to marry and have a family but with the owning of the mine he was looking forward to the chance to try. He was attracted to Emma right away and very impressed with her strength and bravery. He promises not to force himself on her but intends to get her to want to come to him. He feels guilty about keeping his past from her but fears that telling her would mean the end of any chance of happiness for them. I really liked seeing the way they worked together to make the mine work. I also liked his obvious care for Emma and fears for her safety when he found out about her trip into the mine. Even though he was angry about the chance she took he understood why she did it. I loved his support and encouragement of her plan to write her own story about the mining conditions. I loved the way they came together at the end to defeat the blackmailer and finally move forward in a new life together.
I loved seeing both Emma and Logan move forward through various crises together. Their first dinner in public together was a great example of how the two of them could support each other. I also enjoyed the look at mining life both from the owner's point of view and the miners' conditions. I liked the way that Emma was so determined to do what she could to make things safer for them, even at the cost of her husband's regard. The newspaper reporter was definitely the sleazy paparazzi type and I wanted to shake Emma for trusting him at one point.