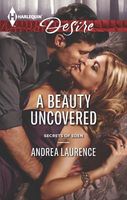 Series:
Secrets of Eden
(Book 2)
CEO Brody Eden is a loner. The brooding billionaire has secrets that he refuses to unveil to anyone…until he meets his new assistant, Samantha Davis. She's temptation personified, and she's sitting right outside his door.

Samantha's never met a man as guarded -- and gorgeous -- as Brody. She doesn't want to fall for her boss, but there's something about Brody…. Beneath his gruff manner, Sam senses tenderness -- and an intense passion waiting to be unleashed. And she'll make it her mission to enter his lair…and his bed.
Excellent book, a real beauty and the beast story. I really liked both Sam and Brody. Sam takes the job as Brody's assistant while her godmother is on vacation. Because of terrible scarring Brody never goes out in public. Brody doesn't expect the beautiful Sam to be oblivious to his scars. He is very attracted to her but still cautious. Sam is just as attracted to him but wary of getting involved as she just left a bad relationship with her former boss. As they get to know each other their feelings deepen, but will Sam be able to get the beast out of his cave?
Sam was great. She takes the job as temporary assistant to Brody because it's the only job she can find right now. She only gets it because she is filling in for her godmother while she is on vacation. She got let go from her last job after a bad relationship with her boss there. She is told that Brody can be prickly but as long as she does her job it will be fine. She is also told that he has terrible scarring and the best thing she can do is not react to it. Brody doesn't even come out of his office the first few days and Sam loses her temper with him. When he finally makes an appearance she doesn't react to the scars, she is too fascinated by his eyes. Now she wants nothing more than to really get to know this fascinating man. I loved the way that she didn't put up with his rudeness at the beginning and stood her ground when he confronted her. After that everything she did went further toward breaking down the walls that Brody has erected around himself. The more they were together the more she saw a caring and sensitive man. I loved the way that she drew him further and further out of his shell. Her love for him grew stronger every day. But with that love came the realization that being with him meant living in the shadows and she had a hard time with that. Her wish to help him created a huge misunderstanding that tore them apart.
Brody is incredibly smart and has become extremely wealthy. As a child he was horribly scarred when his father threw battery acid on him. He had it better when he was with his foster family, but his scarring has changed his life. He avoids being around people, not wanting to deal with their reactions. His few relationships with women have soured him on the idea of love because they have all been more interested in his money than in him. He is drawn to Sam right away. He can't believe someone so beautiful is not affected by his scars. I loved his sweet and romantic side. When she visited his home she got to see his more relaxed side as he played with his dog, and his vulnerability as he tried to make a special dinner for her. The secret he shared with her later made him all the more a sympathetic character to me. I loved seeing him open up even more with her when they went on their trip. It made their breakup scene even more heartbreaking as each said terrible things to the other. I loved the scene when Agnes came back and had a long talk with him. What Brody did after that was really among the best of romantic gestures by a hero.