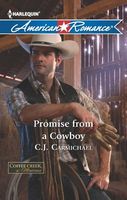 Series:
Coffee Creek Montana
(Book 3)
A Cowboy With Something To Hide…

On the rodeo circuit, B. J. Lambert had plenty of chances to forget about his first love. Back in Coffee Creek, it's impossible. Savannah Moody is as irresistible to B.J. as when they were teens. He'd still do anything for her -- except give up the secret he promised to keep.

Sheriff Savannah Moody knows B.J. is hiding something. Not his feelings for her -- it's obvious to both of them that the attraction is as strong as ever. But she simply can't afford to give in. She has her sister to care for, and the family land, and B.J. might be gone tomorrow. She also has a job to do: to pursue the truth and discover what really happened eighteen years ago when a barn burned and a man died. Even if it costs her dearly….
Very good book.
B. J. has been on the rodeo circuit for eighteen years, ever since shortly after his high school graduation, when he runs into Savannah Moody, his former girlfriend. She is now the sheriff back home and looking for answers to an old mystery. Seeing her again makes
B. J. realize that he's getting tired of being on the road all the time and is ready to go home. Once there he discovers that his feelings for Savannah are just as strong as ever. Savannah feels the same but she has a lot more reasons to resist. Besides her family responsibilities her instinct as sheriff tells her that
B. J. is hiding something important.
B. J. has spent his years on the rodeo circuit basically running from his memories. He and Savannah had dated for two years in high school, until shortly after the fire. Because he cared for her so much, he had promised her twin brother Hunter that he wouldn't tell anyone what had really happened the night of the barn fire. Savannah blamed
B. J. for getting Hunter involved in whatever had happened which had put an end to their relationship. Now that he's back B.J. wants to rekindle their relationship. He has seen the heavy load of responsibility she carries and wants to do anything he can to make her life easier, but he is still unwilling to share what had really happened that night. I really liked the way that B.J. has come home to stay. He tells her right away that he has never forgotten her and would like to see if they can make a relationship work. I loved the way that he tries to do things for her to make her life easier when he sees that no one is looking out for her. He has been keeping his secret out of love for her knowing that the truth would be painful for her. As more information about that night comes out he knows that the truth will have to be told but doesn't want to be the one to do it. The whole issue is still causing stress between B.J. and Savannah because she doesn't want to believe that he had a part in the man's death but she doesn't want it to be her brother either. B.J. is also ready to take on more responsibility with the family ranch and steps in to take over the horse breeding side when his foster brother Jackson wants to leave. It takes him a couple weeks to settle in and he butts heads with his brother Corbin a couple times but he's happy to be home. I liked the way that he finally accepted that running from his memories and problems doesn't work, though he still had to learn that trying to protect Savannah caused many of those problems.
Savannah has been the sheriff for three years and loves what she does. It fits right in with her need to take care of people. When she was younger she took over caring for her brother and sister because her mother was pretty much useless. She is still doing the same thing with them eighteen years later. But her brother only contacts her when he needs something and her sister is ready to be on her own. Now that B.J. is back in town she is fighting her feelings for him. She knows she still loves him but because he isn't telling her the truth about what happened she feels that she can't trust him. With the investigation about to be reopened she is torn over who to believe. I liked the way that her heart told her that B.J. was innocent of any wrongdoing. Savannah also looks at her job as a way to show people that she is nothing like her father and brother who both had reputations for trouble when she was growing up. She always went the other way and followed all the rules and kept herself on a straight path. As more information about the fire came out she felt that the people of the town were judging her because of it and began to feel like she couldn't stay. I liked the way that B.J. solved that particular problem. The entire resolution of the mystery was well done. It had a couple surprises in it but nothing too startling. I was glad to see that Savannah finally saw how unfair she had been to B.J. all that time.
Also running through the book are a couple themes from the series. One is the feud that has been going on between B.J.'s mother Olive and her sister Maddie. A little more information comes out about the possible cause as B.J. makes the decision to get to know his aunt before it is too late. There is also some kind of connection between Maddie and Jackson, who has left the Lambert ranch to go work for Maddie, who plans to leave her land to Jackson. We also see more of Olive, who I still don't like at all. She is way too controlling and makes it known that she doesn't approve of the women her sons have chosen. I like the way that B.J. stood up to her, even though he went and apologized for being rude to her. I would really like for her to wake up and realize that she is ruining her chances for a good relationship with her children's families.