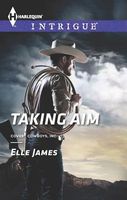 Series:
Covert Cowboys Inc.
(Book 2)
After witnessing the murder of his partner, former FBI agent Zach Adams suffers the weight of his own guilt. An unexpected assignment hunting down the members of the Texas gang responsible -- who have kidnapped a local woman -- could offer long-awaited revenge.

Zach understands the danger of tracking the cartel, but it's his desire for the sister of the missing person that he fails to anticipate. Determined to find her twin, Jacie Kosart is as strong-willed as she is alluring. But when Zach's ruthless search for the kidnappers lands Jacie in the crosshairs of deadly enemies, Zach realizes he'll risk everything to keep her alive…even if it means confronting the demons of his own past.
Very good book. So far I really like this series. Based on my experience with Elle James's books I don't see that changing any time soon. Zach has been invited to join Covert Cowboys Inc. after leaving the FBI. He is still suffering from guilt and anger over the death of his partner and isn't interested until he is offered the chance to go after the gang who did it. This pairs him with the sister of a woman kidnapped by the cartel. He is very attracted to her but tries to keep her out of the action, not wanting to be responsible for danger to another woman. But she won't be left behind and soon she's in just as much danger as her sister.
Jacie was great. She is a woman with a very nontraditional job of being an outdoor field guide. She knows her way around the woods, is handy with firearms, and is cool in a crisis. When her FBI agent twin comes to visit she gets worried that there is something wrong. When the two of them take out a pair of hunters things go bad quickly and Tracie ends up getting kidnapped. Jacie's cries for help bring in CCI who quickly discover that Tracie was investigating a possible mole in her office. She and Zach strike sparks off each other right away until she is able to convince him to help save her sister from his partner's fate. I really loved the fact that she was so independent. She was also able to show Zach that they could work very well together. I especially loved the part where they worked together to question the cartel member they caught - she was very convincing. She did have a tendency to disregard Zach's orders for her to stay back when he went to do something dangerous. It got her into hot water a couple times especially at the end. Though it also saved Zach's neck a couple times. I really enjoyed the strength of their attraction, but that they were also able to control it when they needed to.
Zach had left his job with the FBI after his thirst for revenge interfered with his job. He's not too interested in the job with CCI until Tracie's kidnapping gives him a lead into his own search. Plus he can't handle the idea of another woman going through what his partner went through. He is unwillingly impressed by Jacie and her capabilities. Because of them he can't deny her the opportunity to help him find her sister. I loved seeing his attempts to keep her out of the action and how she ends up in the middle of it every time. He is also fighting his attraction to her because he doesn't want to open up his heart to another risk. Even though he tried his protectiveness kept coming out. He also had his gentle moments with her when treating injuries and trying to comfort her. I loved the effect that helping Jacie had on his need for revenge. She was also able to enable him to look at a future for them in a more positive way.