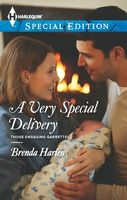 Series:
Those Engaging Garretts
(Book 3)
Being trapped in a strange town in a freak blizzard is scary enough, but Julie Marlowe went into labor in someone's driveway! Lucky for her, a handsome stranger came to her rescue. Several hours later, Julie was the proud mother of an infant son …and in danger of falling for the sexy vet who delivered her baby!

Lukas Garrett didn't know how much he wanted to be a father -- or a husband! -- until he helped bring Julie's little boy into the world. Now mother and child have grabbed hold of his once-guarded heart. But Julie's past could derail her future with Luke, unless she's willing to trust her heart to this man for the chance to have the family of her dreams….
Very good book. I've liked Lukas ever since his appearance in His Long Lost Family when he was such a good friend to his niece's mother. I have been looking forward to him getting his own happy ending. He's been the happy go lucky bachelor for a long time but has started to tire of that lifestyle. He still doesn't feel the need to settle down. When he comes home from work in the middle of a blizzard he is surprised to find a car in the ditch in front of his house. And even more surprised to find the beautiful young woman in it in the midst of labor. Even though he's an animal doctor and not a people one he steps up and delivers Julie's baby boy. He invites her to stay while her car is being repaired and to remain longer when he finds that she has no one to help her at home. Now they have him thinking that maybe he's ready after all...
I really liked Julie. She had found herself in a bad situation with her fiance and broke things off just before leaving town on an extended work assignment. Once she discovered she was pregnant she was determined to do everything she could to make sure her pregnancy went well. She didn't count on getting caught in a blizzard on her way home and ending up in a ditch. She was thankful for Lukas's help delivering her son. I loved her surprises when she found out - after the fact - that he was a vet. I really liked the connection that was obvious between them from the very beginning. It became clear very quickly that she was happy in Lukas's house and the small town. She was also determined that she would go back home when she could, that she was not going to allow herself to fall in love with him. She felt she had made too many mistakes in her past and was afraid of opening herself up again. She tried to keep herself apart but her feelings just kept getting stronger. I liked the way she finally confided in him about her ex-fiance. I also loved the way that she fit in so well with his family, even getting the approval of his friend/sister-in-law Kelly. I also liked the fact that she wanted to face her past before looking toward her future.
Lukas is a great guy. I really loved the way he took care of Kelly in the earlier book. He was also such a great family man, always supporting his brothers and playing with the kids. It was hard to believe that he really didn't see a family in his own future. When he found Julie in the ditch in front of his house I loved his initial panic about her being in labor. I got a real giggle out of the 911 operator letting Julie believe that Lukas was a people doctor. I loved how he was able to keep her calm and get the baby delivered without any issues. What really made the story for me was the way that the baby became so special to him right away. Lukas was also attracted to Julie immediately but really tried to keep a lid on it. He could sense that there was something bothering her and the way she avoided talking about anything personal concerned him. I loved the way he kept getting Julie to stay longer even as he was insisting that he wasn't falling for her whenever anyone commented on it. I really liked the way that he supported her at the end.