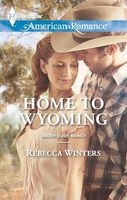 Series:
Daddy Dude Ranch
(Book 2)
It's Never Too Late

Wounded in love and war, ex-Marine Buck Summerhayes wants to put the past behind him. He finds peace working at the Teton Valley Dude Ranch, a special place for families of fallen soldiers. Maybe one day, he'll have a family of his own -- right now he can't afford to indulge in dreams.

Alexis Wilson is no dream. Tasked with overseeing Alex and her young ward during their visit to the ranch, Buck finds himself falling for both the woman and the little girl. Like Buck, Alex has had more than her share of heartache. But maybe between them, they can build a future that's still full of possibilities.
Very good book. When Buck and his friends Carson and Ross left the Marines each was suffering from lung disease from the war and a need to give back after surviving the war when so many hadn't. They began a Dude Ranch which also invites the families of the fallen for a special vacation. This month's visitors are assigned to Buck for their week. Buck is enchanted by seven year old Jenny and completely smitten by her oh-so-young grandmother. But Alex is already committed to a man back home and Buck won't go after another man's girl. He can't help but dream a little of a future with both of them.
I loved Buck. He noticed Alex even before he knew who they were, and once he did he was thrilled to be able to spend time with them. Thanks to having nieces and nephews he was already good with kids, but Jenny was something special. He had a hard time believing that Alex was Jenny's grandmother with as young as she looked. That didn't really matter to him but finding out she was committed to another man caused him to step back. A long time ago his girlfriend left him for another man - his own brother. Since that time he hadn't had a real relationship with another woman, only light ones. I loved seeing Buck with the kids and how good he was with them. In spite of his health issues he was pretty spontaneous and fun loving. He was also calm in a crisis which helped when Jenny got hurt. Buck has a hard time thinking he's good enough for Alex when he thinks of what she is used to in her current life. When Buck was given a second chance with Alex he had to decide if he was willing to risk his heart.
Alex was pretty terrific. She had had a baby at seventeen but managed to get her education and make a good life her her and her daughter. When her daughter also started young, Alex became a very young grandmother. She was Jenny's only family now, since her daughter had died and her son-in-law had been killed in Afghanistan. She was engaged to a very nice man who was older than she was, and with whom she'd been friends with for a long time. Jenny wasn't adjusting well to the engagement and when the invitation to the ranch came Alex thought it would be a great distraction. She was immediately impressed with Buck's rapport with Jenny and how he was able to calm her through the storm. She was amazed by how quickly Jenny became attached to Buck. She also found herself noticing Buck in a way she hadn't noticed a man in many years, but tried to ignore it because of their age difference. She was later surprised to find that it was only five years. I loved the way that she so quickly came to like the area and how it began to change her. Buck had told her that the Tetons had a way of changing a person's perspective and she found that to be true. I loved the way that she and Jenny came back to the ranch and how she and Buck had a chance to talk some. I loved the way she went to support him with his family and how they finally got everything straight between them. I loved the epilogue and can't wait for the next book.
I loved the two kids, Jenny and Johnny. I thought both were portrayed pretty accurately for their ages. I loved Jenny's immediate connection with Buck and what a difference it seemed to make in his life. It really showed, too, what a terrific father he'd make.
The only problem I had with the book was with Harlequin's continuing inability to accept that the word Marine is ALWAYS capitalized. Every time I saw marine or ex-marine, it pulled me out of the story.