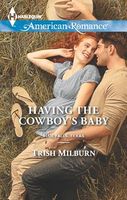 Series:
Blue Falls Texas
(Book 2)
A New Plan

Skyler Harrington is a planner. After the tumult of her childhood, she's built a life for herself in Blue Falls, Texas, that's comfortable, predictable, safe. The last thing she needs is to go gaga over a rodeo cowboy. It felt great to let her hair down with sexy Logan Bradshaw, but she'll be happy if their paths never cross again.

A surprise pregnancy is something neither expected. Skyler has no intention of letting her baby grow up the way she did, with an unreliable father. She's willing to raise their child alone, but Logan is determined to prove there's more to him than being a devil-may-care risk taker. He's daddy material!
Good book. Skyler's friends think that her life is a little too boring, so for her thirtieth birthday they get her a session of skydiving. Filling in for his sick cousin, Logan is the one to take her up. The rodeo bull rider has a great time pushing her buttons and they end up spending one really hot night together. When Skyler ends up pregnant she's ready to be a single mother, not expecting footloose Logan to want any part of being a father. But Logan finds that his wanderlust has faded, if only he can convince Skyler.
Skyler keeps tight control over her life these days. When she was a kid her dad never seemed to be able to stick around for long, leaving her and her mother always wondering when he'd be back. When her friends push her into skydiving, the cowboy who takes her up is an accomplished flirt. She's attracted to him but intends to resist the temptation. When he shows up at her birthday celebration later those intentions go up in smoke after a superhot kiss. Deciding to take one night to live it up she gives in to the heat between them, but makes it clear that's the end of it. When she discovers she's pregnant she isn't sure at first whether to even tell him, figuring no father is better than an unreliable one. When she tells him he is stunned and not sure what to do. I liked the fact that Skyler didn't hide the news from Logan. I wasn't so happy with the way that she kept telling Logan she was sure that he wouldn't stay involved. Her experience with her father kept her with that negative attitude. As Logan stayed around she let herself dream a little but still kept that negative expectation in the back of her mind. She needed to separate her past from her future and give Logan a chance.
Logan was a footloose rodeo cowboy and liked it that way. He had grown up on an isolated ranch in North Dakota and couldn't wait to get away. When he met Skyler he was attracted to her right away. After their night together she stayed on his mind, even after he left Blue Falls. When he went back a few weeks later he was stunned to discover she was pregnant. His first reaction was to run, but he stayed around to get to know Skyler better. As he did he began to contemplate the idea of settling down, but it still didn't seem like something he could do. But the longer he stayed around and the closer he got to Skyler the more possible it seemed. I loved the work he did on her property to help her sell it. I really liked the emotional growth I saw in him especially when he went to see his parents. I really enjoyed his surprise for Skyler at the end and the decision he made about his future.