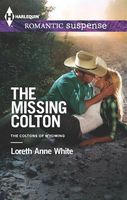 Series:
Coltons of Wyoming
(Book 3)
The dark mystery of a Colton child's disappearance has haunted Dead River Ranch for thirty years. Solving the crime is foreign correspondent Jagger McKnight's last chance to put his war-ravaged past to rest. But his undercover mission leaves him the victim of an attack. And he wakes up to discover that beautiful infirmary nurse Mia Sanders believes he's the missing Colton.

Now the real danger begins. An unknown enemy has Jagger -- and Mia -- in sight. For survival and the sake of his story, he must lie to the woman he'll do anything to protect. But when deception turns deadly, can love save them both?
Good book. Jagger has been drifting along, trying to come to terms with his memories of the war when he hears about the long past mystery of the missing Colton baby. As the victim of a childhood kidnapping himself he wants to put his investigative talents to work to bring justice to the missing boy. Before he can even begin his undercover investigation he is attacked and left for dead. Mia finds him and takes him back to the ranch to heal. All of his things have disappeared but he is left with two items that lead people to believe that he is the missing Colton. Not knowing who to trust, Jagger pretends he has amnesia while he tries to find out who is behind the attacks. When those attacks spill over onto Mia, Jagger knows he has to tell her the truth.
Both Mia and Jagger are running from their pasts. Mia was left at the altar by her fiance who didn't even have the guts to break it off in person. She has been left doubting her judgement in choosing men. Her ex-fiance was also an adrenaline junkie who swore that he was ready to settle down. When she finds Jagger she is immediately drawn to him but senses that there is more to him than he is letting on. She also suspects that he could be the long lost Colton though his amnesia makes knowing his past impossible. There is something about him that reminds her of her ex and tells her she should not get involved with him, but her heart has different ideas. The more time they spend together the more she is torn between her two desires. When she discovers Jagger's deception she feels betrayed and decides to leave it all behind.
Jagger has terrible memories of his final assignment in Afghanistan. They have left him with physical and mental scars and nightmares that he can't escape. When he hears about the renewed search for the missing Colton it appeals to him on a very deep level. Having been a kidnap victim himself he can't understand why Jethro Colton had given up looking all those years ago. He feels that searching himself will give him back some of the self respect he lost. When he is attacked on his way to the ranch it is made to look like he is the missing Cole Colton. Not knowing who he can trust, he pretends to have amnesia so he has a better chance of investigating. He quickly realizes that he can trust Mia, but having begun the deception he doesn't know how to tell her the truth. As they get closer he knows he has to tell her but he fears that it will drive her away from him. I found it very interesting that no one questioned his quick thinking and actions during the crises. I liked the way that being around Mia soothed Jagger's memories and allowed him to see the changes he had already made in his life. When Mia found out the truth he was desperate to make her understand but she didn't want to listen. I wasn't sure how they were going to get their happy ending. The way it happened was definitely heart-pounding in its intensity. I really liked the way that Jagger got his love across to Mia. By the end I could see that both Jagger and Mia had been able to face and overcome their problems.
More layers of the mystery have been exposed in this book but there is still no resolution. Jagger and Mia uncover some information that makes Jethro's part in his son's disappearance rather suspect, though he slips into a coma before they can get any answers from him. There is more activity from the person behind it all who may be a woman (I have a couple ideas of who it might be). The investigations done by the sheriff are thrown into doubt as his actions become suspect also. I'm looking forward to the next books to see how many more things are exposed.